I associate one thing with visits to Melbourne – DUMPLINGS. Beautiful, flavorful, pork, garlic, or shrimp filled dumpling goodness. In China, dumplings are laid out on New Years Eve to bring you wealth in the months ahead. In Melbourne's Chinatown, any dumplings laid out on my table are inhaled immediately.
Yum. 
One of the few downsides to living in New Zealand, at the bottom of the world, is being thousands of miles away from family and old friends. Luckily however, Maura has extended family in Melbourne, so we try and make the most of that and get over there at least once a year to catch up with family, and gorge on dumplings.
We're just back from a very last-minute trip to Melbourne. Thanks to some cheap airfares with Jetstar, we traded the mountains of Queenstown for the skyscrappers of Melbourne for a long weekend.
Hotel Quickly
Quite a few months ago, I was asked to do a review on a new hotel booking app called Hotel Quickly. Given my weekends away in New Zealand are generally spent in the mountains as opposed to in hotel rooms, this visit was a good chance to try out the app. Especially useful as our trip to Melbourne was a last-minute one, and this is the type of traveler Hotel Quickly is aimed at.
The premise behind the app is simple: Hotel Quickly offers the best prices on last-minute 3, 4 and 5 star hotels.  You can find deals up to one week in advance.
It does this, and it does it in a really beautiful way. The app is simple to use … and strangely enough for something as mundane as a hotel booking app, it's almost enjoyable to use.
In the case of Melbourne, you'd find dozens and dozens of hotels, motels or guesthouses on the likes of Agoda or Booking.com. Hotel Quickly shows you a limited number of hotels they've secured the best deals on, and allow you to filter these out based on a couple different bases: Top 10 Deals, Near Me, Luxury, Mid-Range or Standard.
Booking is simple, after you've added your payment preference to the app, all you do is enter your Name / Contact details, and Swipe to Pay. Confirmation is sent immediately, and if you have questions there's a built-in Live Chat system on the Hotel Quickly app itself. No need to call an international number and remain on hold for ages, you can chat with their staff directly through the app.
Best Prices by Earning Credit
Hotel Quickly claims to have the best prices that are on average 28% cheaper than other online options. My booking at the Vibe Savoy Hotel was slightly cheaper than Agoda, but certainly not by 28%. The advertised rate on Aogda was $371 NZD and Hotel Quickly had the room available for $370 NZD.
However, one thing that Hotel Quickly offers that you won't find elsewhere is the ability to earn free travel credit that can be used on your bookings. By sharing the app with your friends, you can earn $2 NZD each time they download the app. They'll get $30 NZD in free credit, and when they use the credit you earn yourself $30 NZD in free travel credit as well. So, if you have a lot of friends that do a lot of travelling, there's potential to book some hotels at very good prices.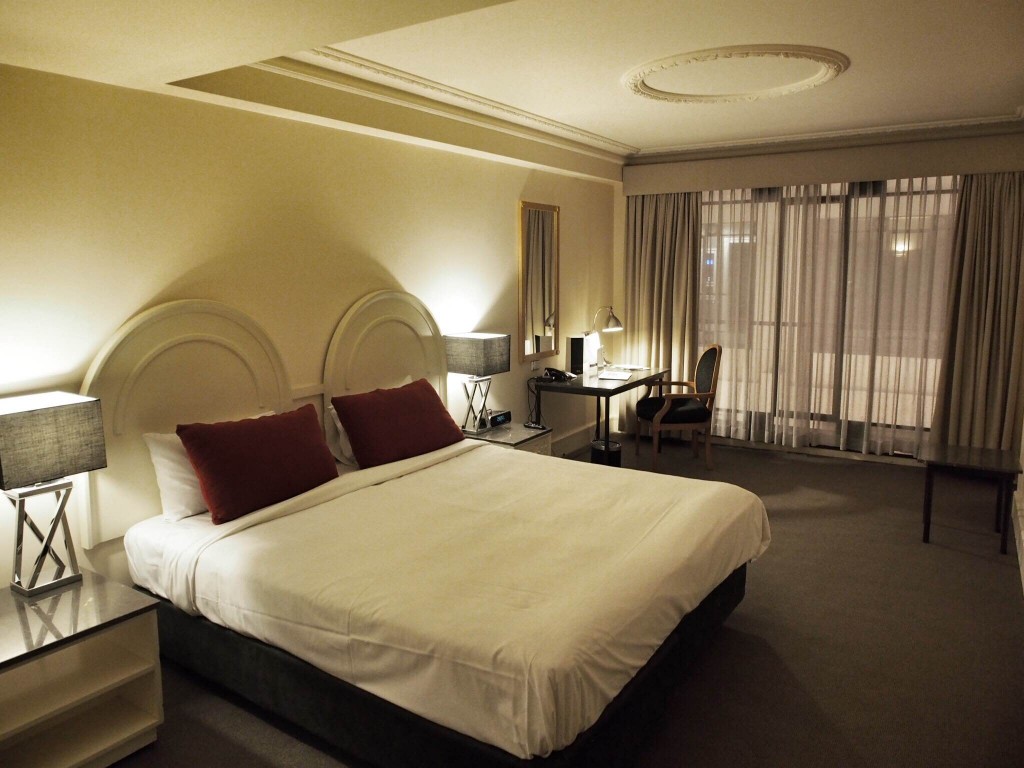 You also get ongoing benefits as part of their loyalty program. Make 1 booking per year, and you'll get a 4% discount on every room you book; 5 bookings per year earns you a 6% discount; 10 bookings per year earns you an 8% discount.
They stand behind their 'Best Price' promise, and will refund 2x the difference if you find the same room advertised for a better price.
So, you've got a beautifully designed app that's almost enjoyable to use thanks to its UX and design. This app promises to offer you the best prices on last-minute hotel bookings. And the icing on the cake? There's a very real potential to earn heaps of credit simply by sharing the app with your mates.
It's a no-brainer for last-minute travel. Follow this link to download the Hotel Quickly app and enter my referral code MKYHN to receive $30 NZD in free travel credit.
Hotel Quickly offered me compensation for this review, but as always these opinions are my own.