When Brian, Peter, and I were in Izmir a couple weeks ago, we decided one evening to get our beards trimmed and our hair cut at a Turkish barber. We had heard many good things about the experience – for little more than 10YTL (aprox $7), you can spend an hour or so getting a full barber experience.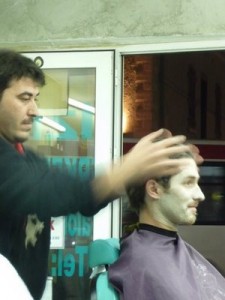 I imagine the whole process would have been more enjoyable if only I spoke fluent Turkish. I envision the barber experience being a very social event. And, I imagine if I was Turkish, mine would have ended differently than it did.
After walking into the barber shop, I asked the young barber how much for a beard shave and a hair cut – he pointed at my beard and said 5YTL and then my hair and said 5YTL. Ten Turkish Lira – perfect. Lonely Planet was accurate.
He sat me down and got to work. After trimming my straggly beard of nearly two months with his clippers, he got out some warm shaving cream and a soft brush. He painted my face with the shaving cream and then began to shave my face with a proper, open blade. Five minutes later, I was left with a bald face – a strange feeling as I hadn't been been baby bald in probably close to eight months.
When he finished shaving my beard, he wiped the remaining cream off with a warm towel. He then got to work on my hair – perhaps luckily, he didn't take much off. After seeing Brian's haircut, I'm not sure I'd trust his work on my hair as much I would my face.
When the trimming was done, he laid the chair back and washed and massaged my hair. After toweling my hair dry, he pointed at my hair and face and said, "Problem." He then picked up a bowl filled with some sort of cream, pointed, and said "No Problem." Next thing I knew, he was painting this cool cream all over my hair, face, and neck. Within minutes, it was beginning to solidify. I must say, the mask was quite soothing.
When the barber had decided the mask was sufficiently hard enough, he began to peel it away using a warm, sticky, wax-like substance. After one more hair and face wash in the sink and some Turkish hairstyling, my barber experience was nearly finished.
When the haircuts were finished, we sat around, drank tea, smoked cigarettes,  and tried to communicate with each other – not easy considering the language barrier. When we were ready to go, I asked him how much it would be for the three haircuts. After the 10YTL quote for me, I anticipated it being 30YTL for the three of us. How wrong I was.
Mr. Turkish Barber said for the three of us, he wanted 150YTL. He was trying to say that the masks he painted on our faces were extra – not true, according to our trusty Lonely Planet. After much arguing, we were able to get out for 15YTL each – still more than we deserved to pay, but significantly better than the 150YTL he wanted to get.
A frustrating way for a really good experience to end. Live and learn, I suppose.