While Auckland isn't New Zealand's capital city, it is the largest with a population of just over one million people. Auckland has a great reputation throughout New Zealand, so long as you don't leave … well, Auckland. Venture too far outside of the city, and it becomes overly apparent that Auckland and Aucklanders have a less than perfect reputation with New Zealand's other three million people.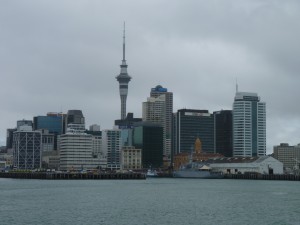 Chances are though, if you're visiting New Zealand, you'll spend at least a couple of nights in Auckland – and that's all you'll need. Your visit to New Zealand  should include adventure sports, hiking, spectacular landscapes, and friendly people. And the best of these are found outside of the city.
Here are some budget tips for your time in the City of Sails.
One thing I found terribly frustrating after my arrival to New Zealand was the lack of free, wireless internet. The concept of going to a coffee shop, buying a coffee, and enjoying free access to the internet just doesn't exist yet in this country – not even in a big city such as Auckland. The vast majority of WiFi hotspots you find are pay as you go. To further confuse matters, they are pay as you go based on time or data usage. Uploading photos to Facebook, using Skype, or streaming movies will drain your usage in minutes.
If you need the internet in Auckland, these are your best bets.
Esquires Coffee House has a number of locations around the city. Most of these will give you an hour of internet usage with the purchase of a coffee. While they limit you to 100mbs of usage, it's certainly a better setup than most other coffee shops. Especially Starbucks.
The Gloria Jeans Coffee house at 360 Queen Street offers an even better deal. Purchase a coffee and they'll provide you with the password to their private wireless network. No time restrictions. No usage restrictions. It's a great place to Skype home.
Auckland's Central City Library (and most libraries in New Zealand) at 46 Lorne Street (just off of Queen Street) offers free and unlimited wireless.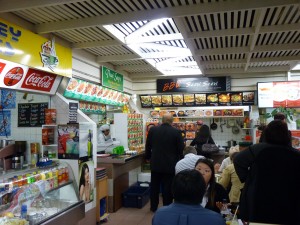 Just like any other city, you can expect to pay more for food, beer, accommodation, and the like in Auckland. If you're after a cheap eat, you can't miss Auckland's Food Alley at 9 – 11 Albert Street.
Featuring about 15 different kitchens on two levels and specializing in food from throughout Asia, this food court is a must see for your time in the city. You'll find food from Thailand, China, India, Turkey, Korea, Japan, Vietnam, and more. Hungry backpacker sized portions are served up for less than $15. Go over the lunch hour when the place is in full swing to fully appreciate the madness. With a couple licensed bars, you may end up spending the afternoon.
There are plenty of things to do in Auckland's city center to keep you busy. But if you're after a quick, cheap, day-trip outside of the city, consider heading to Devonport on Auckland's North Shore. A picturesque, maritime suburb, Devonport feels more like a small village. With plenty of free things to do, it's a great day trip for a budget traveler. I recommend heading up North Head and Mount Victoria. Both of these small hills provide unbeatable views of downtown Auckland, the sea, and the surrounding islands.
To get to Devonport, you'll need to catch a Fullers Ferry from the ferry terminal at the bottom of Queen Street. The ride takes about twenty minutes and will cost you $10 return. North Head and Mount Victoria are within a 30 minutes walk from the ferry terminal – as are a couple of white sand beaches. After a day of walking around Devonport, you'll be ready for a pint. Swing into the Masonic Tavern and enjoy one of their 14 different beers, cheap food, and sea views.
I don't have any hostel recommendations for your time in Auckland. However, I can encourage you to avoid the Base ACB hostel on Queen street. Run down, smelly, and poorly run, this hostel is every non-travelers view of what a hostel is. Avoid it, and instead check out some of the independently owned hostels in the neighborhoods surrounding Auckland's city center.
Have you traveled to Auckland? Please add your budget travel tips to the comments section below!