New Zealand's Bridal Veil Falls are located on the North Island's west coast in the Waikato Region. At 55 meters high (180 feet), they are often regarded as being the most spectacular waterfalls on the North Island. It's a beautiful area of New Zealand, with vast expanses of green, rolling hills.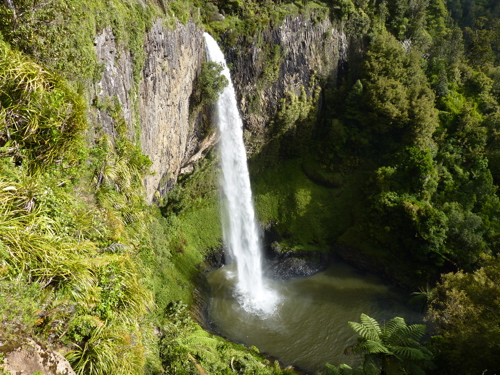 While the Huka Falls near Taupo are impressive for the sheer volume of water that gets pushed through such a narrow opening, I don't think they can compete with the views of the Bridal Veil Falls. They're very easily accessible, yet chances are they won't be overrun by tourists like the Huka Falls in Taupo.
You can get to the falls by driving about 15 minutes from Raglan – a quaint, seaside, surf town. Once you arrive at the car park, a quick ten minute walk through native bush brings you to the top of the falls. The path takes you through dense bush filled with New Zealand ferns.  You're separated from the lip of the falls by only a small, wooden fence and can feel the cool mist blowing off the rushing water. There are excellent views down the entire length of the falls.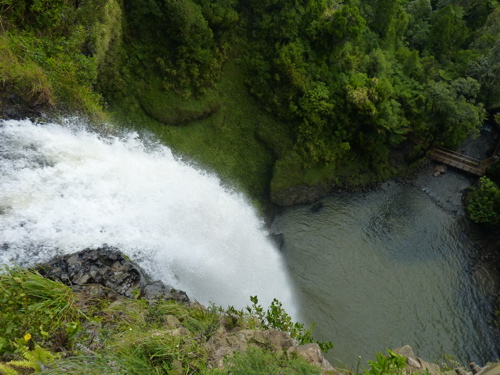 From here, you have the option of continuing to the base of the falls. A ten minute walk down a steep set of stairs brings you to the pool at the base. If the sun is right, you're guaranteed some great rainbow pictures in the waterfall's mist (it wasn't right for me!).
The Maori name for the falls is Waireinga. This means, "water of the underworld." As the water plummets off the hard, basalt rock lip, it lands in a pool of sandstone which has been slowly eroded over time. The water then disappears into the thick bush.
There are no public transport options from Raglan to get you to the falls. If you're traveling without a car, I imagine hitching wouldn't be a problem. From what I've heard, it's not a problem anywhere in New Zealand – especially near a surf community such as Raglan. It's a quick, half day trip and well worth your time.