A backpacking trip to New Zealand isn't complete with out a visit to the Northland. One of the prime destinations in the Northland is the beautiful Bay of Islands – an inlet off the South Pacific dotted with over one hundred tropical islands. It's an area of mild temperatures, beautiful coastline, and laid back, friendly locals. On a sunny day, the blue-green, emerald waters contrasted with the white sand beaches will almost take your breath away.
There's plenty of activities for the backpacker in the Bay of Islands, be it dolphin watching and swimming, sailing, fishing, kayaking, or diving. All of these activities center around the water – and your visit isn't complete without a cruise out on the Bay.
One of the main draws to the Bay of Islands is the number of Bottlenose dolphins which call this area of New Zealand's coast their home. There are a number of operators which will take you on a cruise into the Bay where you will almost certainly see dolphins, and if you're keen, allow you to go for a swim with them.
The largest cruise operator in the Bay of Islands is Fullers. They offer a number of different tours to suit different groups. Their Hole in the Rock cruise will take you all around the Bay of Islands and through the famous Hole in the Rock at Cape Brett. They take a lot of passengers, well over 100, so don't expect a personal experience with your skipper and crew. The cruise lasts four hours and costs $89. The cruise isn't billed as a 'dolphin watching' cruise, yet you stand a decent chance of seeing some.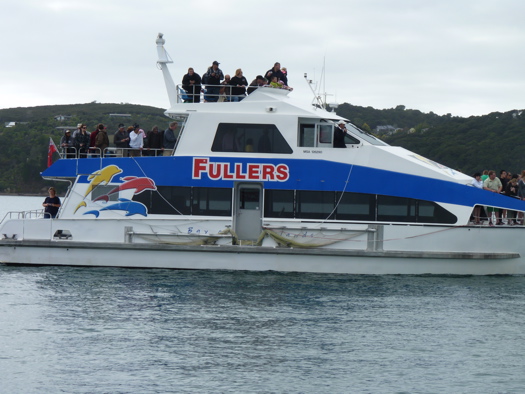 Fullers also offers a Swim with Dolphins – Dolphin Eco Experience cruise which specifically sets out to see, and if conditions are right, swim with dolphins. The cruise goes on a smaller, purpose built boat and also will cost you $89 and lasts four hours. If you see dolphins, and choose to swim with them, it will cost you an additional $30. Nomadic Matt gives his take on the tour here.
Dolphin Discoveries operates a very similar tour to Fullers' dolphin watching cruise. You go out on a purpose built, high speed catamaran for four hours. The tour again costs $89 and if you choose to swim with the dolphins, you'll pay an extra $30.
I choose to see the dolphins with Carino Sailing and Dolphin Adventure. This tour is slightly different to the other options, and in my mind, is a better value for the backpacker or budget traveler. For $99 ($105 including a barbecued lunch), you spend the day sailing on Carino NZ – a 50 foot catamaran. The other tours last for about four hours – but the Carino tour lasts for closer to six.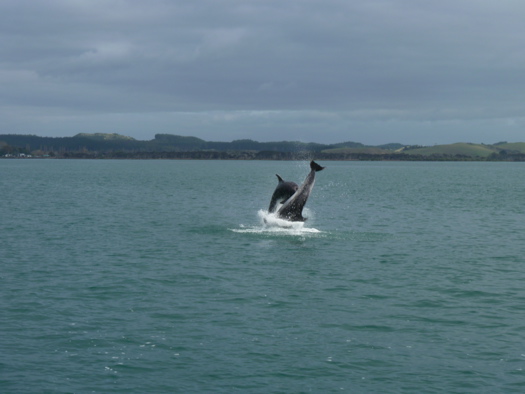 The cruise leaves Paihia at 9am and you return for the day at about 3pm. You spend the day sailing around the Bay looking for dolphins – and if the conditions are right, you're allowed to swim with them for the same $99 price. Midway through the day, you set anchor near an island beach where you have the option of going for a hike or doing some snorkeling. It's a beautiful sail boat and Vanessa (the captain) will only take up to 40 customers. Considering this, it's a very personal experience with Vanessa and Scott, the other crew member. They do a terrific job of sharing their knowledge and passion for dolphins and the Bay of Islands with you.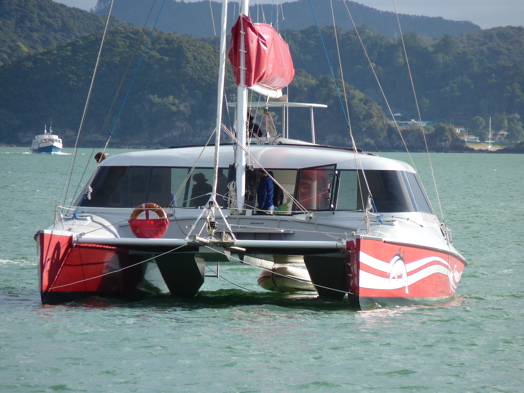 We saw dozens of dolphins on my tour. At one point, the boat was literally surrounded by dolphins. Everywhere you looked you could see them jumping, coming up to the surface, fishing, and playing. At times, they were rubbing themselves against the boat – apparently, to scratch themselves or get rid of sea lice. It was a magical experience to see the dolphins in their natural habitat acting in their natural way. Vanessa and Scott knew many of the dolphins by 'name' and shared their history with us.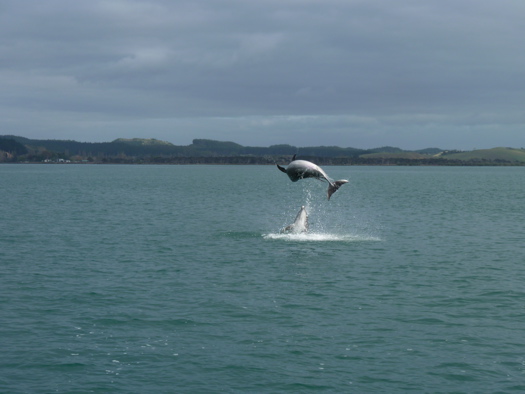 Unfortunately, we were unable to swim with the dolphins. Had the conditions been right, Carino would have provided the wetsuits, snorkels, and fins needed to get in the water with the dolphins. We were unable to as there are many regulations stating when you can or can't swim with the dolphins. You're unable to get in the water if they're feeding, have babies with them, or if they're traveling. I was okay with this, and as most tours advertise, you only get to swim with the dolphins, "at their own invitation."
My only complaint with Carino was the way they finished the tour. Without any announcement to us, we sailed back to Paihia and were thanked for coming on their tour. While I'm sure they knew many of us were hoping to swim with the dolphins, they didn't acknowledge our obvious disappointment. Nonetheless, it was a great experience and I highly recommend the tour. They provide an excellent opportunity to see the beautiful Bay of Islands.