Today's guest post is written by Nicole Graham. Nicole recently graduated from Edinburgh's Napier University and studied Tourism Management. Nicole's travel experience includes mainland Europe, the US, Nepal, Australia, Peru, Kenya, Thailand, and New Zealand. She also happens to be my girlfriend and enjoys planning our next trip, reading, and exploring New Zealand in our campervan, Max.

Edinburgh is arguably one of the most vibrant, cultural, and beautiful cities in the world. Full of friendly people and fascinating history, Edinburgh is one of those places you just have to visit. If it isn't clear already, I'm a bit biased – a proud Edinburgger and very glad to call Edinburgh home.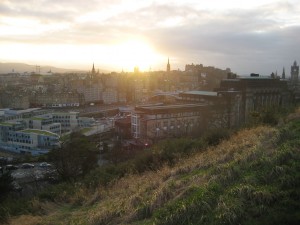 If you find yourself in this wonderful city for a day (spare more if you can!), you can't miss Edinburgh's historic castle, a wander down the famous Royal Mile, and a pint and a dram in one of our many pubs. After getting these 'must see' sights out of the way, here are some other activities you can't miss. Perhaps, a couple things only locals know …
First of all, I recommend getting to know the Edinburgh public transport system as it's by far the easiest and cheapest way to get around the city. Lothian Buses run an excellent service all over the city centre and beyond. For just £3, you can grab yourself a day ticket and hop on and off all of their services. You can easily pick up a leaflet on where to catch the bus you need from one of their three stores in the city centre or online.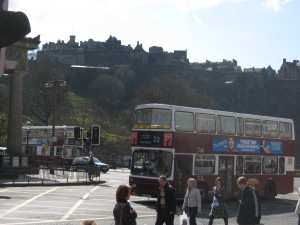 After you've gotten to know the double decker maroon buses, and you cant miss them they are all over, it's time to hop on the Lothian Bus 41 and head to a wee place called Cramond. An old Roman settlement, Cramond is a historic and picturesque seaside village in the North part of Edinburgh. It takes about 25 minutes to get there by bus and you could easily stay half a day exploring its nooks and crannies. Take a walk along the river Almond and see the fishing boats and yachts bobbing in the water. If the tide is low, take a stroll over to Cramond Island and see some Roman ruins.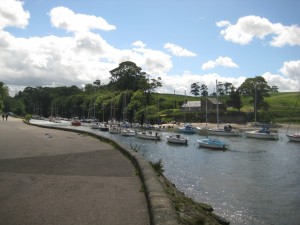 A visit to the Cramond Inn is well worth a pint. A cozy little pub, this place serves up very cheap pints and decent pub food. After a couple bevies, head up the road towards Cramond Church and stroll around the gardens there.
If you like pretty, wee, boutique shops, a visit to the Bruntsfield / Morningside area of Edinburgh is worth your time. To get there you can either walk through the Meadows from Forrest Road or hop on the Lothian Bus service number 16, 11, 17, 15, 23 or 45. This is where a majority of Edinburgh's students live, but feels very much the real Edinburgh. With its original New Town tenement buildings, pubs, bars, and cafes galore, this is a terrific place to get lost wandering around on a sunny day.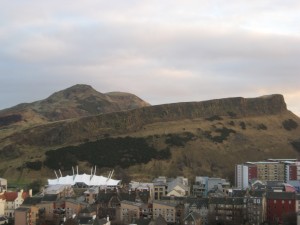 For some stunning views of the city, try heading up one of Edinburgh's seven hills. One of my favourites, Arthur's Seat, is found just on the edge of Old Town Edinburgh. Located at the bottom of the Royal Mile, this 823 feet volcanic hill provides brilliant views of Edinburgh, the surrounding countryside, and the Firth of Forth. Arthur's Seat is the centrepiece of Holyrood Park – a public park filled with steep cliff faces, small lochs, and the ruins of a chapel dating back to the 15th century.
After your walk to the summit of Arthur's Seat, continue on down the other side and finish your day in Duddingston. This wee suburb is home to the oldest public house in Scotland. Finish your day with a pint at the Sheep Heid Inn – with its origins dating back to 1360.
With such a diverse range of cultures, architecture, festivals and the like, Edinburgh really does have it all, a wonderful place to experience as a visitor and an even better place to live.