After spending nearly a year in Edinburgh, I came to realize a number of things about the Scottish – namely, the fact that they love to drink. Needless to say, I fit in well. One of the many things I miss about Scotland is the pub culture that exists within the Scottish society. The pub is a place to gather, to meet with friends, family, and coworkers.
I spent many an afternoon in dim, Scottish pubs reading the Scotsman and enjoying a pint or two of real ale. After work, I would unwind with my coworkers at various drinking holes chatting away about work, life, and whatever came to our minds. The pub was a place to celebrate birthdays, graduations, and promotions. The pub was where I began courting my now Scottish girlfriend. The pub was a place to meet old friends and make new ones. And often, the pub was a place to warm up and escape Edinburgh's rain.
If you find yourself in Edinburgh – and you should, it's a marvelous city – here are three Edinburgh pubs you can't miss.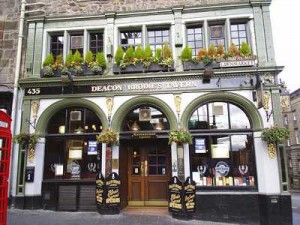 1. Deacon Brodies (435 Lawnmarket, The Royal Mile) is one of Edinburgh's   oldest and most famous pubs. Located only minutes away from the stunning Edinburgh Castle, Deacons serves up some decent beer, okay pub food, and has an impressive selection of Scottish single malt whiskies. Located minutes away from the castle, it is often filled with a number of tourists and locals alike.
The pub is named after William 'Deacon' Brodie who lived two lives: by day, he was a respected Edinburgh council member and deacon of the cabinet makers guild – by night, he was a robber who stole to support his drinking and gambling habits. He was eventually caught and ultimately hung on the gallows he built himself – only minutes away from where the pub named after him now stands.
As you walk into Deacon's, be sure to look up and notice the beautifully decorated ceiling. Found and renovated only 20 years ago, the ceiling features the flowers of the four nations of the United Kingdon: England's rose, Wales' daffodil, Ireland's clover, and Scotland's Thistle.
2. The Halfway House (24 Fleshmarket Close) is Edinburgh's smallest pub and located just up the steps from Edinburgh's Waverly Station. No bigger than the common kitchen, this great wee pub is a wonderful place to relax, chat with locals, and sample some of Scotland's finest real cask ales. They feature regularly changing cask beers throughout the year. Stop by often, as the beers change daily. The Halfway House also serves up some of Edinburgh's best haggis, neeps, and tatties. Call in yourself and find out why it was named Edinburgh's Pub of the Year in 2009.
3. The Royal Oak (1 Infirmary Street) is one of the best places in Edinburgh to get a real taste for traditional, Scottish, folk music – featuring fiddles, wooden flutes, drums, and the odd pipe. A well lit pub, The Royal Oak features live music throughout the week.
Show up early on the weekends, or you'll end up having to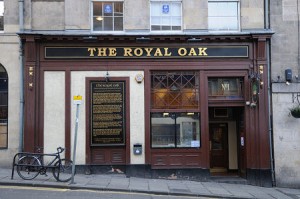 squeeze your way to the bar. Get yourself a pint of whatever real ale they have on offer, a packet of bacon fries, and get ready for a music filled evening. My guess is you'll stay later than you imagined.
Edinburgh offers literally hundreds of pubs to choose from – all unique in their own way. Take a wander around the cobbled streets of the Old or New Town and you're bound to find a pub that suites you well.
Do you have a favorite Edinburgh public house? Leave it in the comments section below! Cheers!