If there was one warning I would give someone before learning to paraglide, it wouldn't have anything to do with the potential dangers of the sport. It would be a cautionary tale of a different variety – one that focused more on the incredibly addictive aspect of flying, and one that cautioned how paragliding can very quickly take over your life.
If you're not paragliding, you're parawaiting for the conditions to come right. During your free time you're reading paragliding forums, following Freeflight subreddits, watching instructional videos on YouTube, checking the weekend forecast or researching new gear. At least that's how it's played out for me.
It's gotten to the point where my non-flying mates' eyes seem to glaze over each time I mention the dreaded 'P' word. That is, at least the ones that haven't since decided they too are keen to learn.
Learning to paraglide is a life changing experience. It fulfills the boyhood dream of flying like a bird and allows you to view the world from an entirely different perspective.
I came across this quote by Leonardo da Vinci shortly after starting paragliding lessons nearly a year ago, and it's one that becomes more and more evident as the days and weeks go by.
"Once you have tasted flight, you will forever walk the earth with your eyes turned skyward, for there you have been, and there you will always long to return."
With that, here is a collection of paragliding photos taken during the last six months or so from around the Queenstown region of New Zealand's South Island.
1. Launching from Coronet Peak's Rocky Gully
This is one of my final flights of paragliding school at Coronet Peak's Rocky Gully launch site. Here, I had my first solo flight and truly tasted the freedom of flying a paraglider and this remains one of my favorite sites in the Wakatipu Basin. The view of Lake Wakatipu, the Remarkables and the nearby landing field at Flight Park Cafe are fantastic.
2. Flying Away from Rocky Gully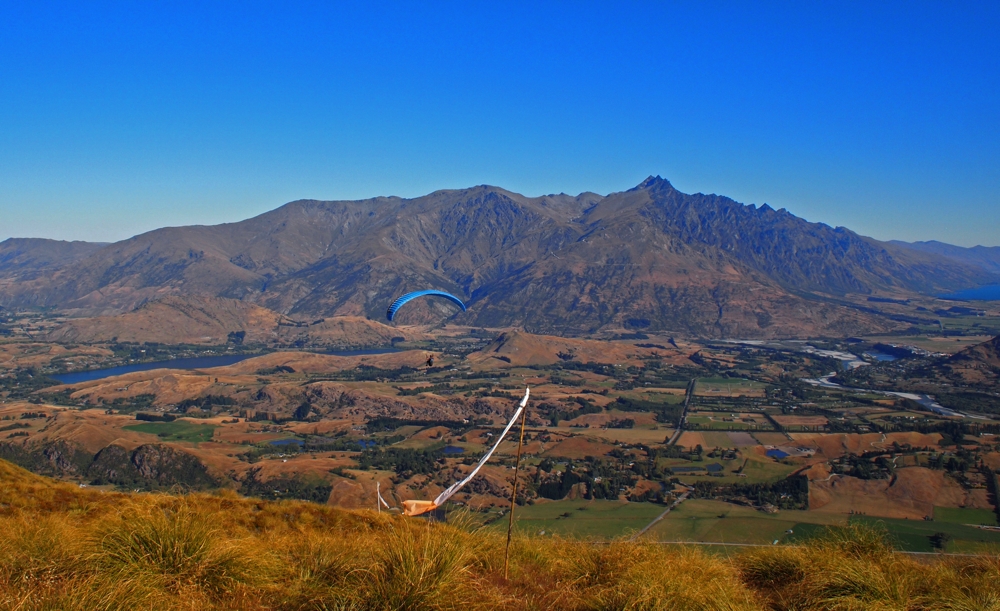 The Remarkables in the background and the wind sock showing a lovely uphill breeze in the foreground.
3. Rocky Gully Winter Launch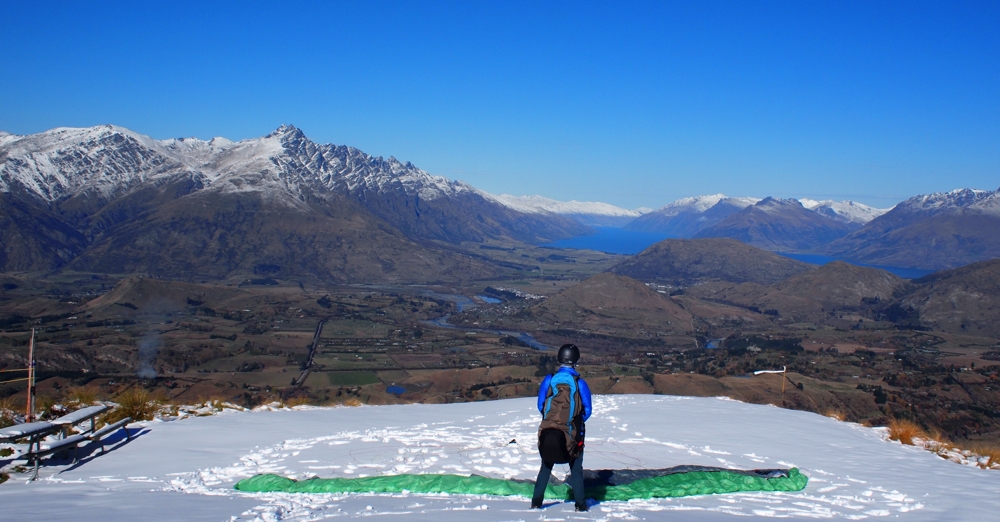 Fast forward a couple months and summer has gone bringing the winter's snow along with my Solo PG2 pilot's license. This is the same Rocky Gully launch site, this time covered in a soft blanket of powder. Launching here proved difficult as katabatic wind meant the breeze was blowing down the hill for most of the afternoon.
4. Ground Handling in Frankton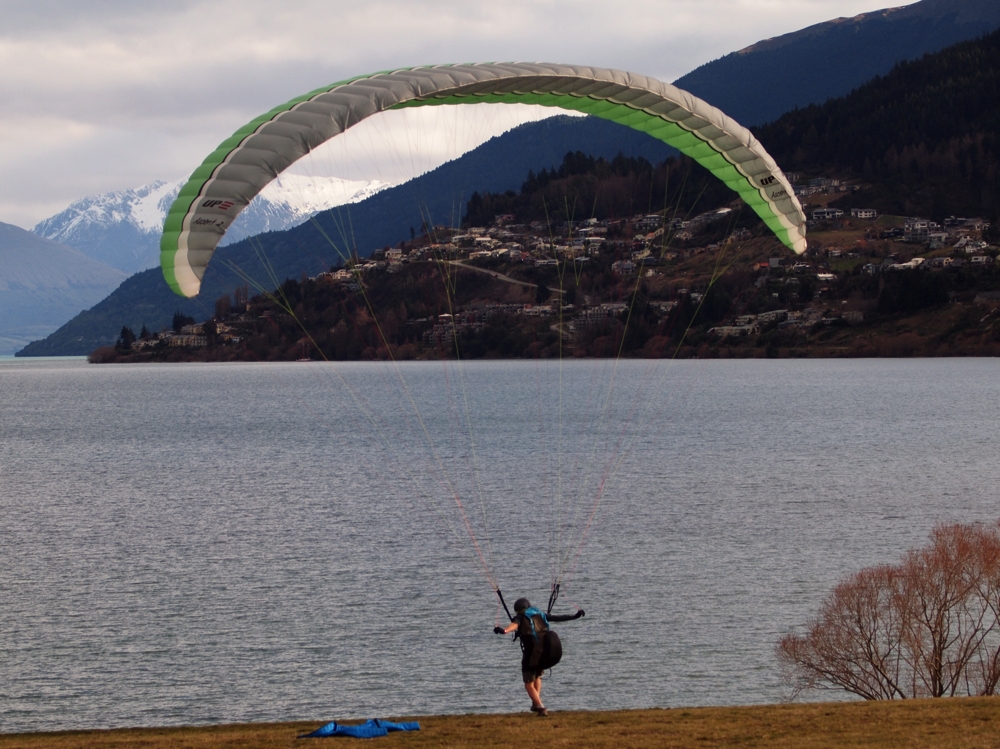 In regards to learning to fly, they often say that ten minutes on the ground is worth an hour in the air. The Frankton Beach, only minutes away from my house and downtown Queenstown, is a great place to ground handle; ground handling is practicing kiting the wing above you in a light – moderate breeze.
5. More Ground Handling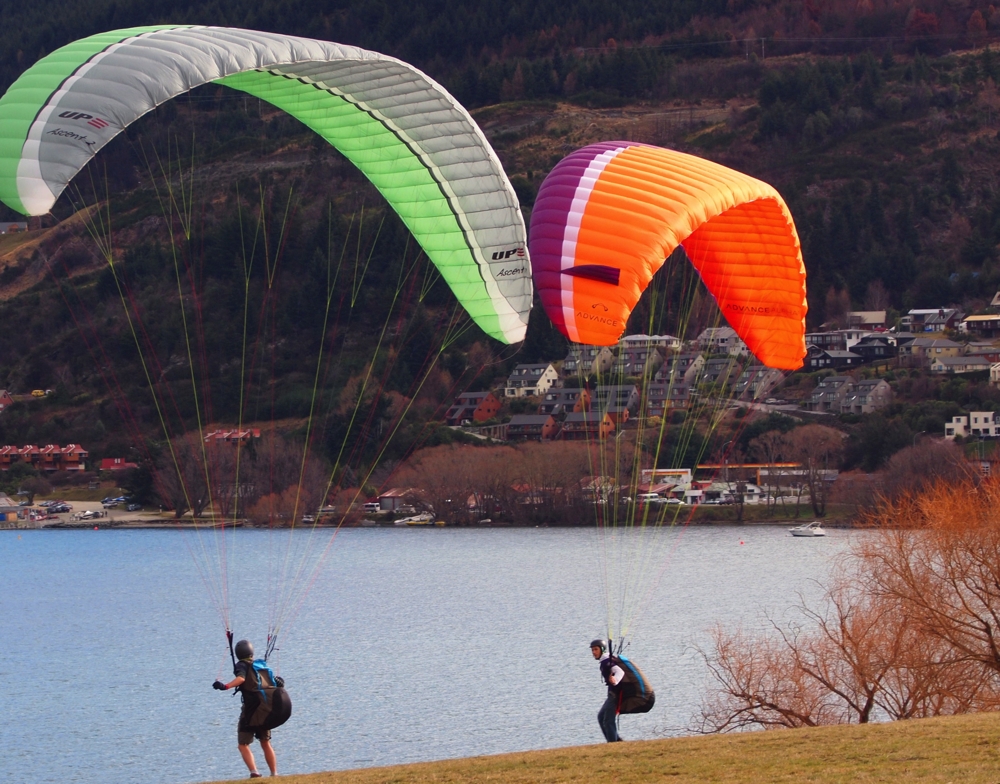 Here I am on the same day with my good mate and flying buddy Seamus.
6. Coastal Soaring in Riverton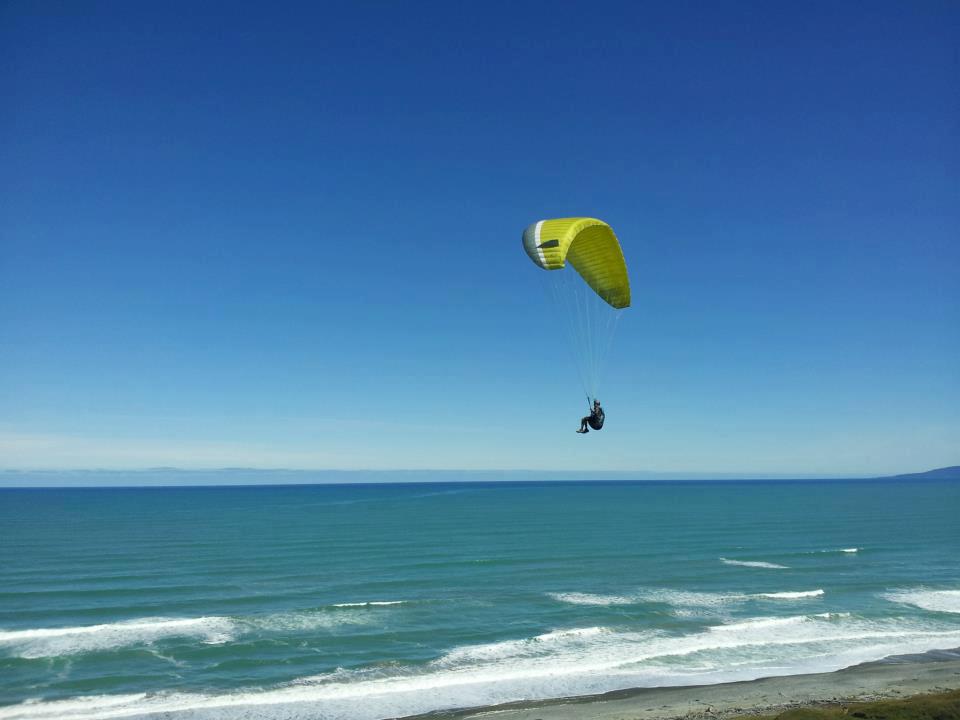 This photo was taken near Riverton, a quiet coastal town a couple of hours away from Queenstown.
7. More Coastal Soaring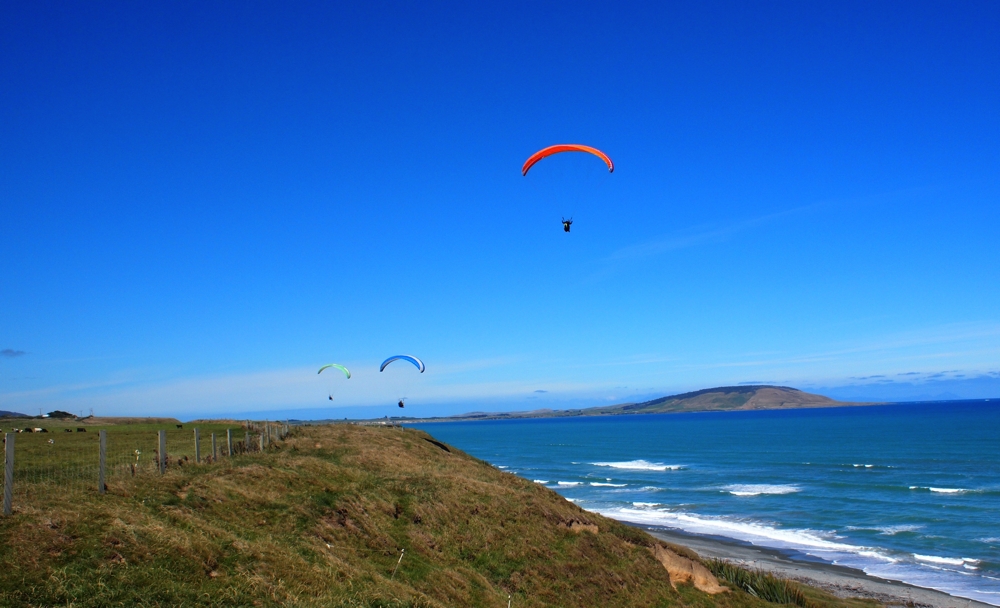 Three wings soaring the ridge lift near Riverton.
8. Preparing to Launch at Treble Cone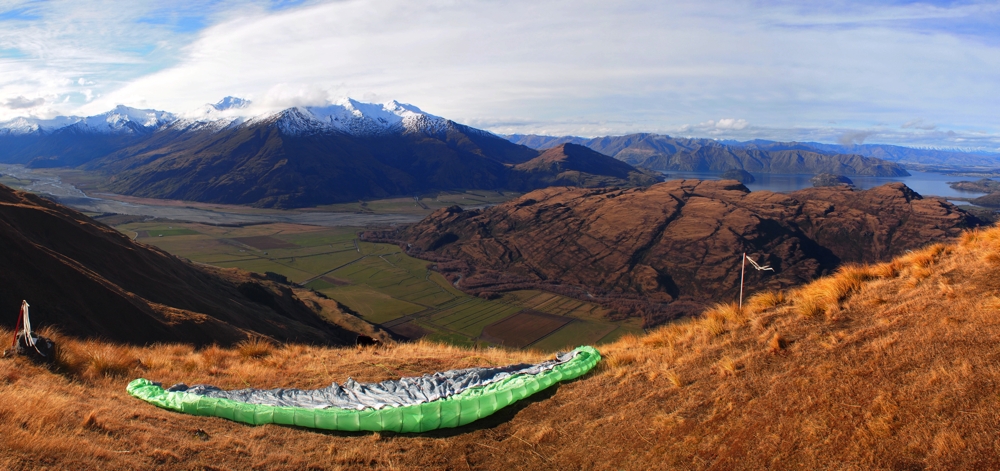 Treble Cone is a ski field near Wanaka, and it's also home to what must be one of the best places to fly on the South Island. Compared to Queenstown where you have a nearby international airport and consequently airspace restrictions, at TC you are free to fly where you wish. It's a popular XC spot – a cross country site where paragliders will take off and fly for 10, 20, 30 or more kilometers away.
It's an iconic launch site that looks up the stunning Matukituki Valley and down to Lake Wanaka.
9. Flying Above the Matukituki Valley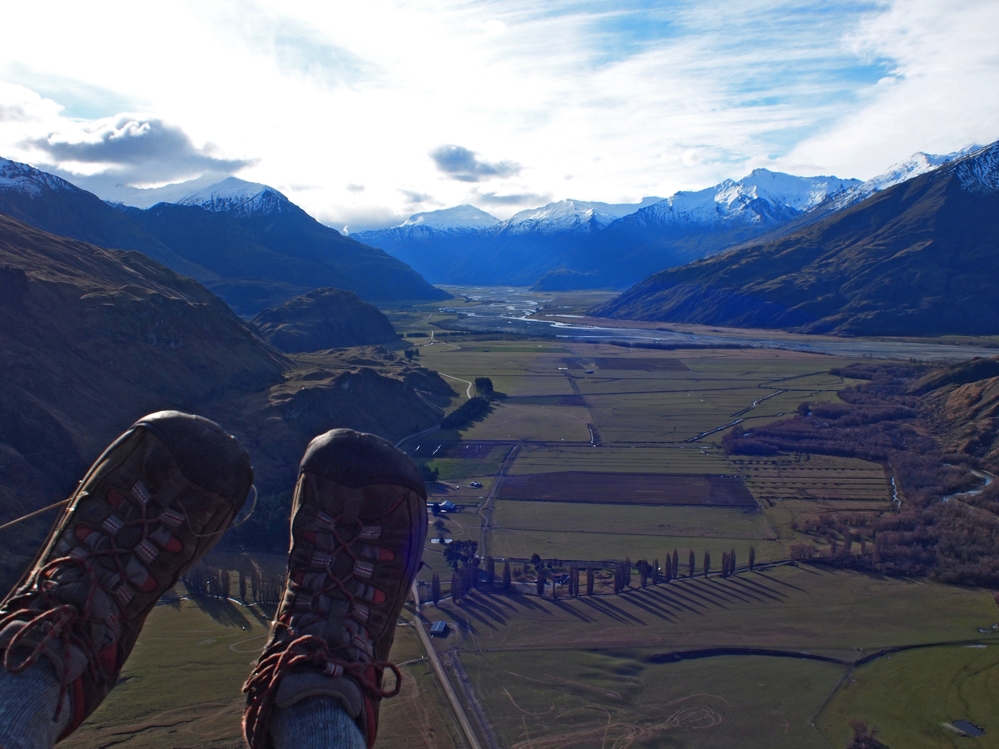 Shortly after launching at Treble Cone, here I am flying high above the valley.
10. The Paragliding Selfie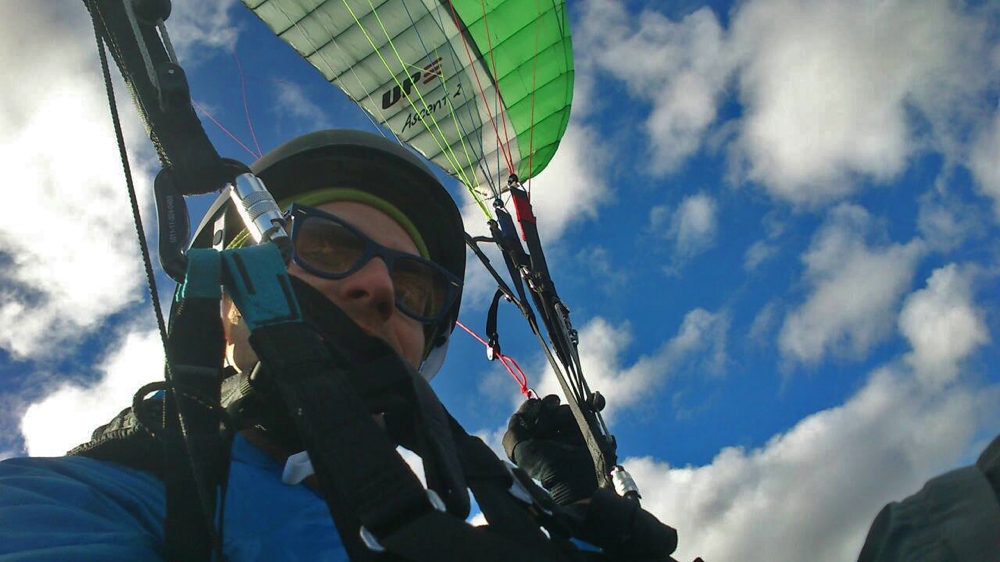 Flying from Coronet Peak on a winters afternoon.
11. Wings & Blue Sky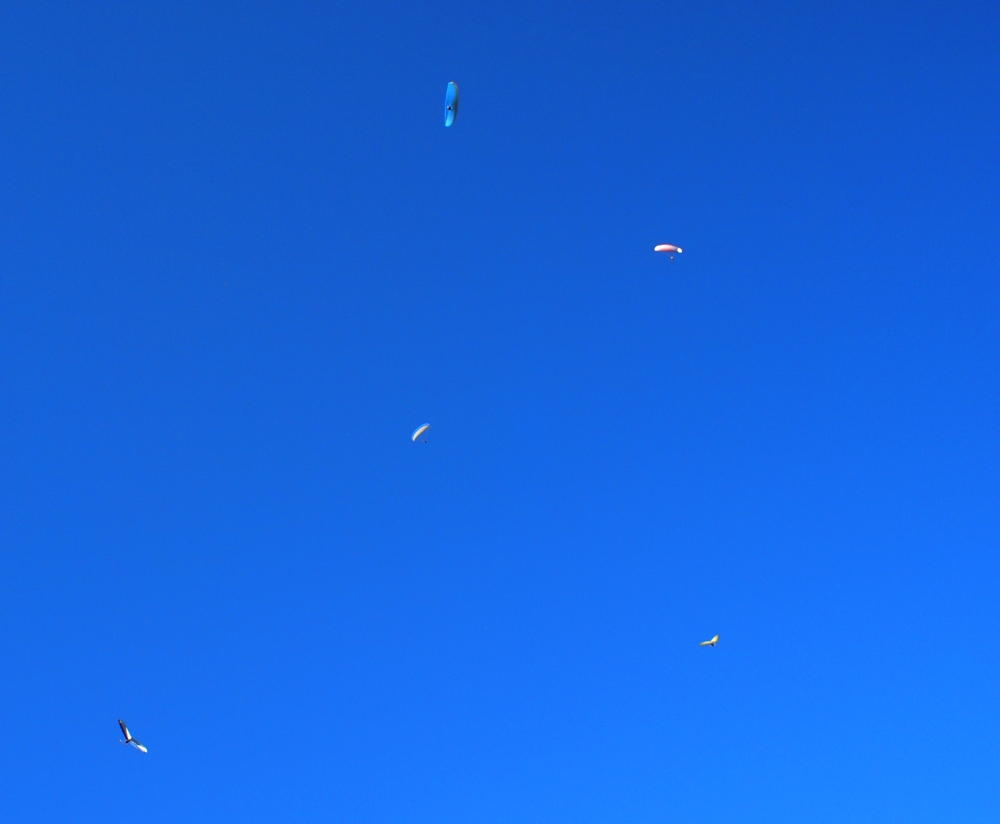 Two hanggliders and three paragliders high above the Flight Park Cafe.
12. Flying from the Remarkables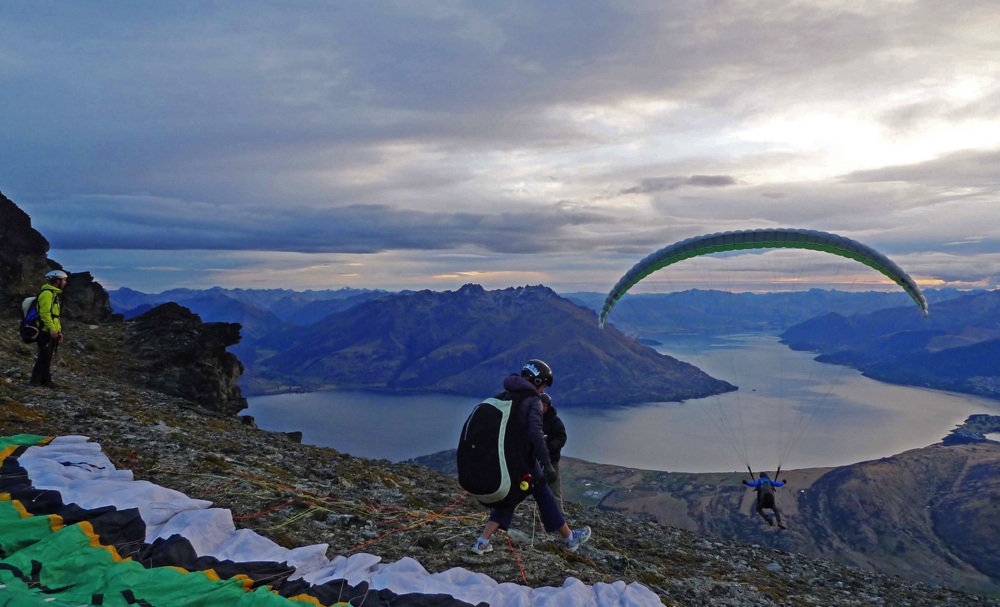 Here I am launching off of the Remarkables Mountain Range outside of Queenstown – in the background you have Lake Wakatipu and Cecil Peak in the centre of the shot. I wake up every morning to views of this mountain range, have climbed to its summit and rode my mountain bike up to its ski field. I never would have imagined that one day I'd fly from the Remarkables, but at the end of last summer I did just that.
It was, without a doubt, one of the most intimidating launches I've ever faced. Thousands of feet above the Wakatipu Basin and on challenging and rocky terrain, it was certainly a committing launch. One of my most epic flights to date and one that was made even better as 30+ pilots from the Southern Paragliding Club were along for the mission. A flight I won't forget.
13. Coronet Peak Summit Launch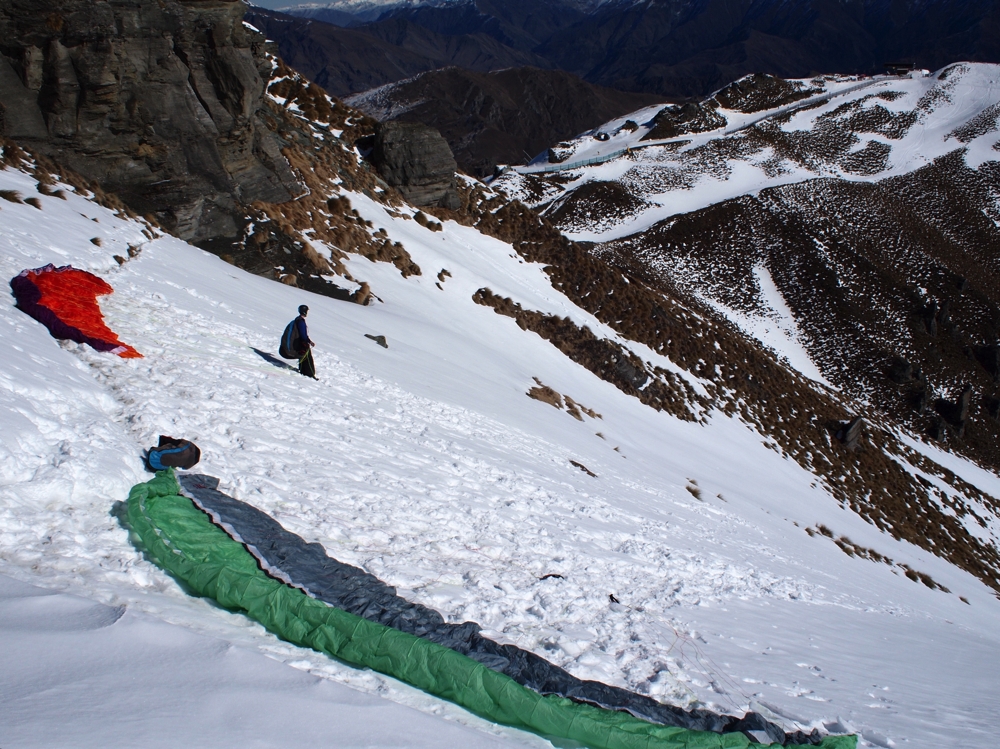 During the winter months when the ski field is open, getting to the summit of Coronet Peak is much easier with the assistance of the ski lift. This is on the back side of Coronet, facing north. After launching a quick left turn places you high above the ski field and grants you views of the snow-covered Wakatipu Basin.
14. Launching Towards Skippers Canyon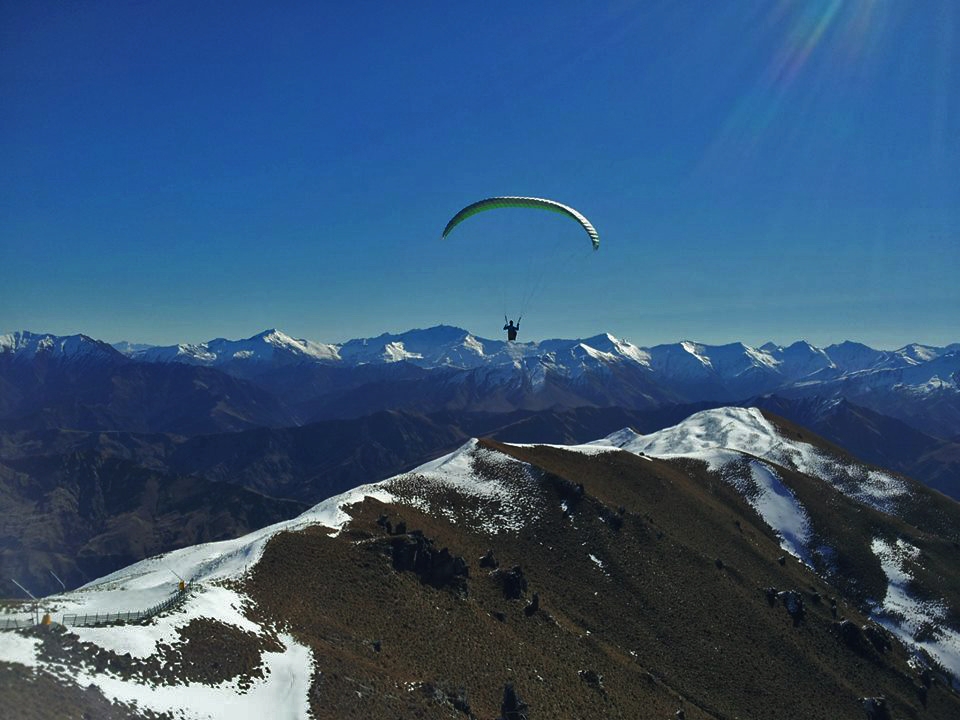 This is me flying towards Skippers Canyon, off the Northwest launch at Coronet Peak's Greengates Express lift. Photo credit goes to Swanny from Infinity Paragliding School.
15. Flying Above Lake Wakatipu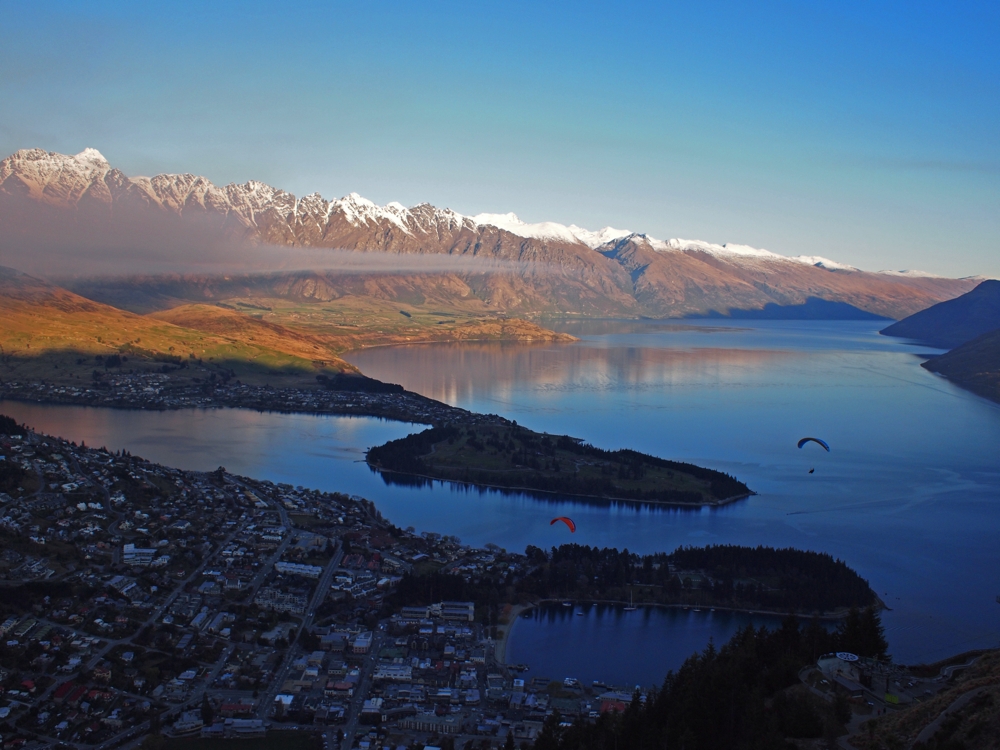 One of the greatest things about living and flying in Queenstown is the proximity of the Skyline Gondola. This launch site is accessed after a short 15 minute walk from the Gondola top, which leaves from the middle of Queenstown. Seeing paragliders fly from here is what first inspired me to learn to fly when I arrived in Queenstown – three years later, I often get up the Gondola for a mid-day lunchtime flight on my break from work.
Thanks to local Queenstown Tours for making this post possible. 
Do you paraglide? Have you been paragliding? Share your experiences in the comments section below.