If you ever find yourself in Franz Josef Village, on the West Coast of New Zealand's South Island, you'll be there for one reason – and one reason only. You've come to see Big Franz – Franz Josef Glacier.
Franz Josef Village (population, 300) exists solely because of the glacier found just outside of town. It's a great, wee tourist settlement with all the necessary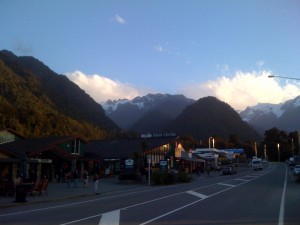 bars, restaurants, cafes, and tourist shops. Franz has a nice, alpine village feel – so long as you don't mind the massive influx of tourists that come every summer. If you're here during the high season, be sure to book your accommodation well in advance.
A visit to New Zealand's West Coast isn't complete without a trip to one of the two glaciers found here – Fox Glacier and Franz Josef Glacier. Located only 300 meters above sea level, nowhere else in the world do glaciers come so close to the sea at this latitude. Found in Westland Tai Poutini National Park, Franz Josef Glacier is the product of years and years of endless rain. The West Coast receives over 78 inches of rain each year. High above Franz Josef Village in the glacier's accumulation zone, this precipitation falls as snow, which eventually forms ice, which in turn creates Franz Josef Glacier.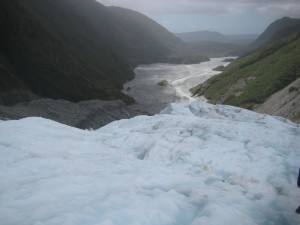 Franz is one of the world's fastest moving glaciers – traveling towards the sea at an astonishing average of one meter per day. About 18,000 years ago, Franz stretched all the way to the Tasman Sea. Since then, it has advanced and retreated and is currently found about 5kms outside of Franz Josef Village.
You have a number of options to see the glacier – one to suit every budget. If you're short on cash, you can catch a lift to the car park outside of town. A 45-minute walk will take you within view of Franz's face. An equally (if not more) impressive view is found by taking a quick ten-minute hike from the car park to the top of Sentinel Rock. From here you're granted terrific views of the glacier stretching up the mountainside.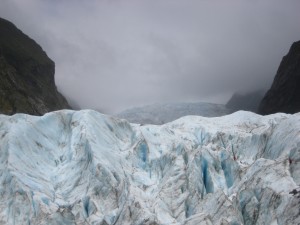 To get the most out of your glacier experience, I recommend going for a guided hike onto the glacier with Franz Josef Glacier Guides. Located in the village, FJGG offers half day, full day, and heli-hikes. For the budget traveler, the half day guided hike is a must.
Franz Josef Glacier Guides sets you up with all you need for your glacier experience. They provide ice crampons, boots, warm and waterproof pants and coats, and transportation from the village. After being led to the glacier face, your group of thirty is broke down into groups of 10 – 12 with a guide for each group.
After donning your crampons at the edge of the glacier, about fifty steps cut into the ice bring you to the top of Franz's face. Immediately, you're greeted with unbelievable views of both the glacier valley and the glacier stretching up the mountainside. Your small group is guided up the glacier passing through caves,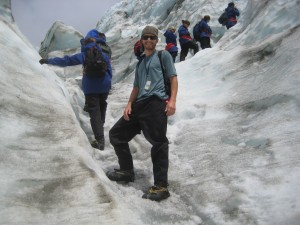 past glacial streams, and around deep and seemingly endless crevices. Along the way, your guide ensures the path you take is free from the very real dangers of ice and rock falls.
The half-day hike takes approximately four hours and gets you almost two hours of ice time. It was one of the most amazing experiences of my life. Walking around a glacier is an absolute surreal experience and well worth the money.
Thinking of taking a hike on Franz? Here are some details to get you started:
Where? Franz Josef Village is essentially in the middle of nowhere. The nearest large town is Greymouth, a good two hours north. Food, drink, petrol, etc. are significantly more expensive here in Franz. Plan accordingly. Book your accommodation well in advance – everything from four star to budget accommodation fills up nightly in the high season.
Franz Josef Glacier Guides are located on the high street in the village. There half day tours regularly fill up – book in advance.
How much? The Half Day Glacier Experience will cost you $105. The Full Day tour is $160. The Half Day tour gets you two hours on the ice – I felt this was plenty of time. Have some cash to blow? Check out their Heli-Hike Tour starting at $390. UPDATE: As the glacier has been retreating since publishing this post, there now is no longer the option of doing the half day tour for only $160. To actually get on the glacier, a quick helicopter trip is required due to unstable ice at the glacier's face. The Franz Josef Ice Explorer is $325, but if you book through Planit NZ I can get it for you for $315 NZD. Book your Franz Trip here.
Is it worth the money? Yes. You won't fully appreciate Franz unless you get up on him. Go for the Half Day tour!
Not convinced? Check out TravelFreak's Franz Josef Photo Essay.