Today's Friday Travel Photo brings you to Cappadocia in central Turkey. Thanks to Verity (@verty) from With Sparkles for submitting the photo.
The rocks of this area of Turkey have been whipped into shockingly smooth curves – this volcanic terrain, with rock formations known as 'fairy chimneys' has been shaped by Mother Nature over thousands of years. The landscape of Cappadocia today seems to belong nowhere else other than perhaps the moon.
Most shocking about Cappadocia perhaps isn't the actual landscape, yet it's the work of humans who have built homes into these rocky cones. A stroll around Cappadocia will result in you finding hidden caves, churches, chapels, and other treasures built into the stone. Today, you'll even find luxury hotels and hostels.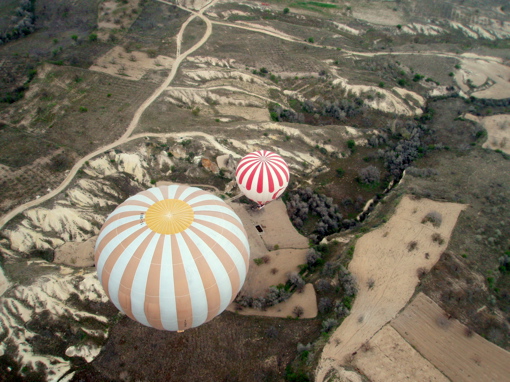 Here are some travel tips for your trip to Cappadocia:
Stay in a hostel built into the rock formations. Where else in the world can you spend the night in a well furnished hostel built into a cave?
Take a hot air balloon tour. As Verity did, I recommend you take the time to take in the magical landscape of Cappadocia in a hot air balloon. There aren't many places where you can experience a hot air balloon flight cheaper than Turkey, and a trip up shouldn't cost you much over €150. As Verity said, "It was so beautiful, balloons rising in the crisp morning air over twisting valleys, patchwork farms and the eery shapes of fairy chimneys."
Hike around the Ihlara Valley. This valley is a 16 kilometer long gorge cut deep into the volcanic landscape of southern Cappadocia. The Melendiz Stream flows through the gorge and the result is an oasis of green in the middle of the otherwise barren landscape. Like the rest of Cappadocia, you'll find underground dwellings and beautiful churches.
If you're considering a trip to Cappadocia, you'll want to allow three or four days at the minimum to fully experience everything this area has to offer. Cappadocia is a 50 Lira (approximately $30) and 10 hour bus ride from Istanbul.
Do you have a photo you'd like featured on Backpackingmatt? Email the photo to matt [at] backpackingmatt [dot] com.