Today's Friday Travel Photo takes you to the Czech Republic's capital city of Prague.
Prague is the geographical center of Europe and one of continent's most beautiful cities.  Praha is filled with friendly people, world-renowned Czech Pilsner beer, and a stunning range of architecture – Renaissance, Gothic, cubist and neoclassical all sit side-by-side. Did I mention the world-famous Czech beer?
This statue is found outside of the Kafka Museum in the Mala Strana neighborhood of Prague.  It's called Piss and was designed and created by Czech sculptor David Cerny. Two sculptures stand in an enclosure filled with water. These moving sculptures pee streams of water that write quotes from famous Prague residents. A sign next to the statue gives you a number that you can text messages to. After sending the text, the statues stop and 'write' your message.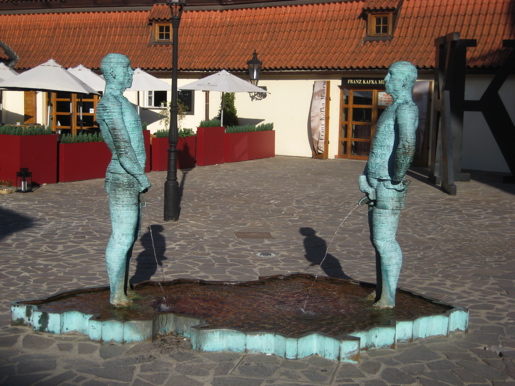 Some unique artwork to say the least.
Prague is quickly becoming one of Europe's most popular cities and swells with tourists during the hot summer months. Don't miss Prague's famous Charles Bridge – but take a stroll across it at night to avoid the crowds.
Have you been to Prague? Share your experiences in the comments section below.
Do you have a photo and brief write-up you'd like featured here? Email it to matt [at] backpackingmatt [dot] com