Today's Friday Travel Photo was submitted by Clark & Kim of the travel blog ToUncertaintyAndBeyond.com.
Kim captured this fantastic photo outside of Sarajevo, Bosnia.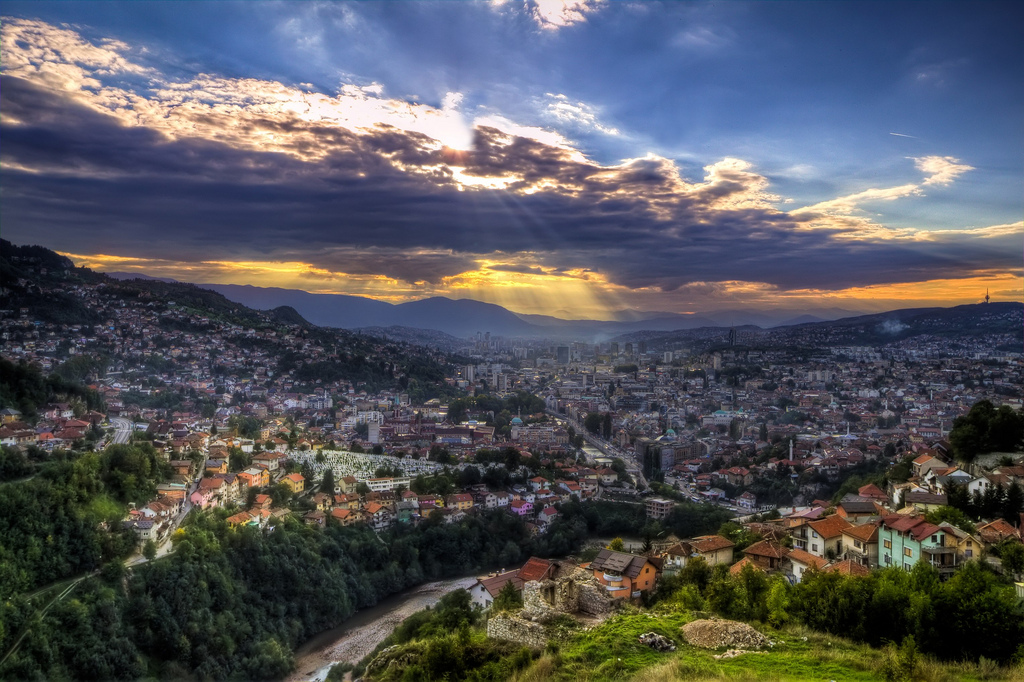 Clark remembers this from the night they were backpacking in Sarajevo:
I asked the locals where I could find a good view of the city, and they pointed me up the large hill by the war cemetery (can be seen in the bottom left of the photo).

As I hiked up, there were signs off the road warning pedestrians of land mines in the nearby wooded areas … You'll pass little grocery stores, cafes, old wooden mosques, and houses with bright front doors … There was a group of local kids climbing around a bombed out building behind me to watch the sunset. I tried to take photos of them, but they would squeal and run away before we got the shot. They were a little camera shy.

It was a very cloudy Thursday evening, but the sunset ended up being pretty interesting. I really liked the intense beams of light coming through the clouds by the horizon.
Follow Clark & Kim on Twitter @2UNB to see more from their travels around the world.
Do you have a photo you'd like featured here? Drop an email to matt <at> backpackingmatt <dot> com and I'll gladly feature it with a link back to your blog.