I have been in New Zealand for nearly five months and have seen a good share of both islands. It's a fantastic place with stunning and diverse landscapes, friendly people, and plenty of activities for the backpacker or traveler. These are characteristics that make a location a destination – and New Zealand is definitely that. However, because of this, New Zealand's towns, villages, and cities often feel overrun with tourism. It seems everywhere you go someone is trying to make a buck off of the unsuspecting tourist. Not in Raglan. And not at the Raglan Backpackers.
Raglan is a brilliant little surf town about two hours south of Auckland. Raglan seems to exist if nothing else because of the fantastic surf beaches which are found just outside of town. Raglan feels untouched by the tourism cloud that hangs over the rest of New Zealand. If you're coming to the land of the long white cloud, you've got to visit Raglan.
While you're there, you have two things to do. Stay at the Raglan Backpackers and Waterfront Lodge and try and learn how to surf.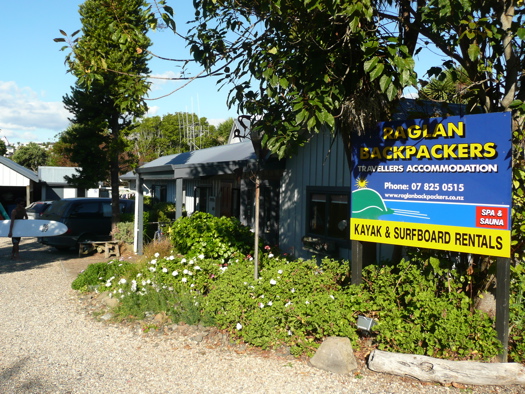 The Raglan Backpackers seems to be a hostel where a backpacker checks in thinking they'll stay for one or two nights, but ends up staying a week. And considering their limited availability at the end of the high season, I'd say that's probably a true statement.
The backpackers sits directly on the Raglan Harbor and is literally a one minute walk away from Raglan's small town center with bars, cafes, and restaurants. The cozy dorm rooms all open to a small garden filled with sunshine and hammocks.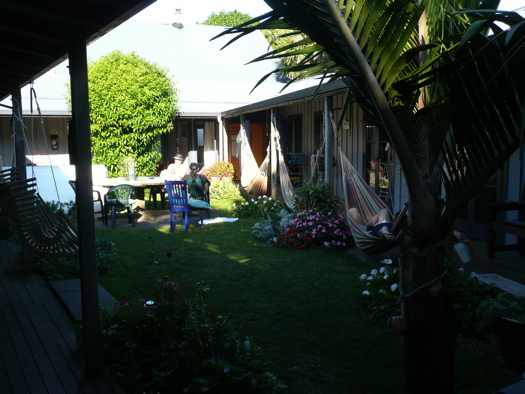 You can relax after a long day surfing in either the spa jacuzzi or the infrared sauna. All free of charge. During your stay you can spend your day (or days!) using their free kayaks, bikes, or fishing supplies. But as Raglan is known for its surf beaches, you must spend an afternoon learning how to surf.
There is an excellent beginners beach found about 2kms outside of town – Ngarunui Beach . When I was there the surf was small with any good waves being quite spaced out. This was alright for me. I enjoyed my time 'sitting out back,' soaking up the sun, and taking in the views.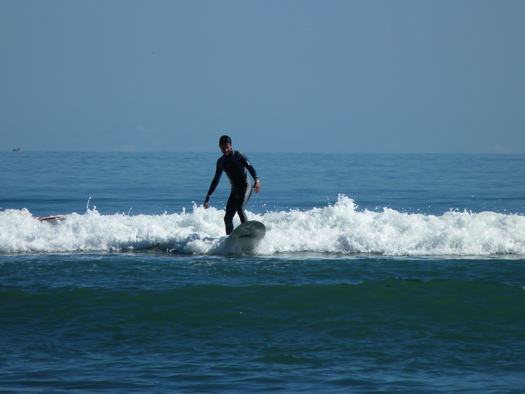 You can get a three hour, beginners surf lesson for $89 through the hostel. Or, you have the option of hiring a board and wetsuit for $30 for a half day. I opted to skip the surfing lesson and instead took a quick briefing from Suze, Raglan Backpackers' owner. I was instructed to keep my center of gravity low, bend my knees, point my dominant foot slightly forward, and look where I want to go. That's all I needed as I was up on a small wave the second time I tried. It felt great, and I'm pretty sure I'll be surfing again before I leave New Zealand.
If you're wanting to stay at the Raglan Backpackers, be sure you book your accommodation well in advance as they will fill up. You can get a shared dorm bed from $26 or a double from $70 a room. Suze and the rest of the staff were extremely friendly, hospitable, and will go out of their way to make sure you enjoy your stay in sunny Raglan.
Disclaimer: Suze at Raglan Backpackers provided me with a complimentary wetsuit a surf board for the day.

Check out the Raglan Backpackers and Water Front Lodge here.