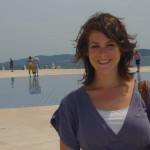 Cat Gaa, a Chicago native, graduated from The University of Iowa in May of 2007 after studying Journalism and Mass Communication and Spanish. Cat scratched the idea of the 8 – 5 job and instead moved to southern Spain in October 2007 to teach English. Other than a couple extended trips home to visit family and friends, Cat has remained in Andalucia. Cat answers some questions below about her life as an English teacher in Spain. You can read part one of my interview with Cat here.
What is the most challenging part of teaching English in Spain?
My job definitely has its ups and downs. The region where I teach is well known for butchering foreign languages, and working in a rural school where I can barely understand them in their own language doesn't help. In addition, many of my students have behavioral or family problems and get little support in their schooling. At first, I wanted to transform them into amazing little English speakers. When I got to my school and realized that the level was so low, I reevaluated and now try and encourage them to learn and work to provide a comfortable environment in which to do it.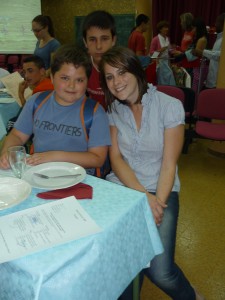 My job is great – little grading, no test giving, and no pointless meetings. I can give a lesson about solidarity or play games and make the class more interesting. Spanish kids are used to books and copying, so my presence in the class mixes it up a little bit.
Having students respond to you and take interest in your culture or what you're teaching makes all the chair-throwing and yelling to be heard more tolerable. Even though my students are chatty and sometimes obnoxious, I feel like a celebrity. When Obama was elected president last year, I walked into class the following day to everyone applauding me!
What is your favorite part about living in Seville?
One of the best parts of living in Seville is that it's a large city with many amenities, but it's not overwhelming like Madrid of Barcelona. To me, it's quintessentially Spanish – bullfighting, flamenco, ceramics, tapas. I'm constantly taken by its beauty, by the warmth of the people, by the surprises that keep me here.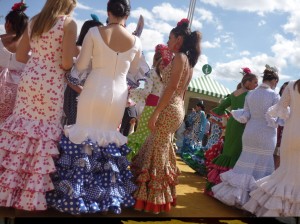 On a larger scope, I have a lot of friends from all over through Couchsurfing, the Erasmus program, and the auxiliar program. This year, a great majority of my travels have been concentrated on visiting friends around Europe. I've been doing nothing but traveling on my many long-weekends since I've been here. I'm headed to Marrakech this weekend.
Sometimes I feel like it might be time to move on and start my life, but here I have one, and I have time on my side. I'm happy, I'm traveling, I have a job I enjoy and, for me, that's most important at this stage in my life.
How have you adapted to living in a new culture?
I feel that, after so long in Spain, I identify well with Spanish cultures. I have adapted easily to the daily siestas and staying out all night. When I came to Seville, I didn't know the city well and didn't know a single person. It was tough at first to make friends, even in a big city, so I really had to make connections where I could. I wrote for the now-defunct Cafeabroad.com, using my journalistic background to get to know the city and meet a few people. This led me to a job working for a student tourism company, where I worked in PR for several months. With time, my social network exploded and I know have friends from around the world.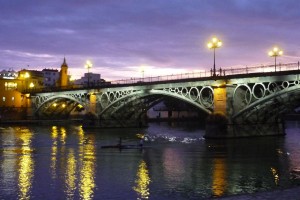 I was thrown into a lot of things I didn't know – a new town, a horribly ugly new Castillian accent, and a new job. I'm pretty flexible, and very sociable, so eventually I learned to tackle all the new challenges. The most difficult part has been the beuracracy and the language. Although I came to Spain knowing quite a bit of Spanish, the Andalusian accent and the colloquialisms were tough to master. I would often get frusterated when I couldn't be understood or people would outright speak to me in Spanish. Now I can defend myself and carry on conversations with ease, even though my nationality gives me an automatic reputation.
There are so many things I love about Spain and living here, that the thought of moving home hasn't crossed my mind since my first days here. I feel connected to the culture, can cook more Spanish dishes than American, haven't used a clothes dryer in ages and often end up missing Spain more than I miss America. It's strange, really. I often get asked when I'll go home. I can't say for sure. I think I'll know when the time comes. Until then, I'm going to go back to school and try and make a life for myself here.
Read about Cat's daily life in Spain, her travels, and her experiences teaching English on her blog, Sunshine and Siestas.