New Zealand is a small country, but still one that is often very hard to plan an itinerary for. There are countless "Must See" places around the country that you'll want to experience – but fitting them all into two or three weeks as most people have can be VERY DIFFICULT.
Here's a problem I often face when helping people organize self-drive trips through Planit NZ. They want to visit Hot Water Beach in the Coromandel, as well as the Watiomo Caves. This becomes a bit of a driving nightmare. Auckland to Hot Water Beach is about two to three hours, and following that you then have three to four hours down to Watiomo – only to zig-zag across the Island again to check out Rotorua.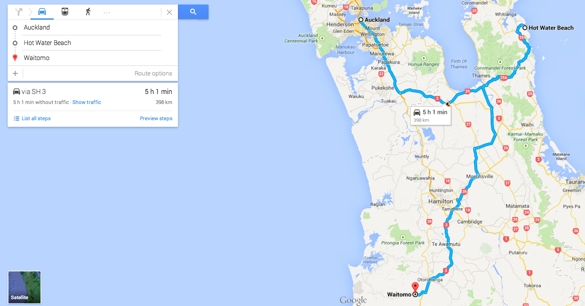 Before you know it, you've travelled three-four days, driven hundreds of kilometers and have only made it about three hours south of Auckland.
Enter: Kawhia
I've been lucky enough to see HEAPS of New Zealand over the past five years. From trips in my old campervan, to work trips with my previous job at NZByBike to adventures around the South Island, there aren't many corners of New Zealand I've not explored. One area I hadn't visited is the small coastal town of Kawhia on the west coast of the North Island.
After spending a night in Kawhia, I'm convinced this small town might be New Zealand's Best Kept Secret. 
Kawhia is a tiny little village on the Kawhia Harbor. The drive into the village is spectacular – leaving the big smoke of Auckland, you'll pass through some busy Waikato service towns, and before too long you'll be on quiet backcountry roads with the views becoming more impressive the closer to get to Kawhia. Rolling and intensely green hills, the typical Waikato countryside, give way to sweeping views of the Kawhia Harbour.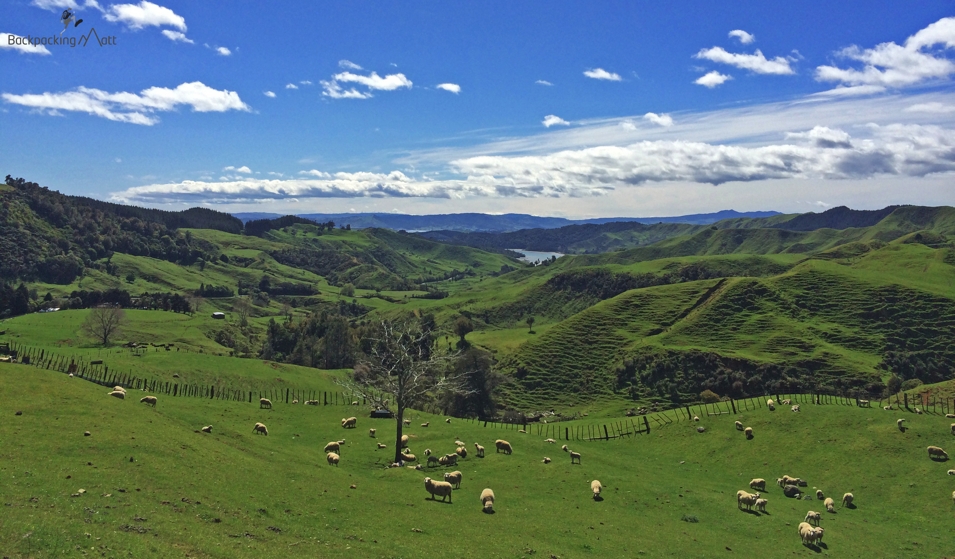 If you've spent any time in Auckland, you'll be glad to be out of the city and into the countryside – views like this are why you've likely visited New Zealand.
About 800 or so years ago when the Maori people first travelled to New Zealand, they came in a giant ocean-going canoe called a waka. The first waka to arrive, named the Tainui, was guided by a chief named Hoturoa. The waka made landfall at a number of places around the North Island, before finally coming to rest at Kawhia.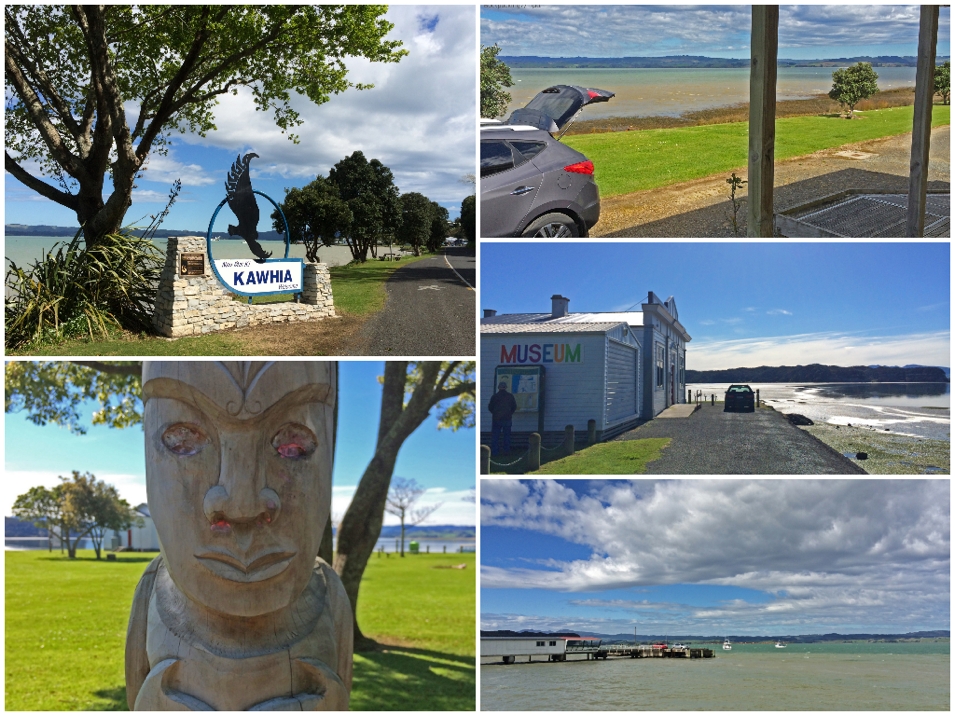 This Maori heritage is very evident in Kawhia; be it from the local museum or the annual Kawhia Kai Festival each February when thousands of people flock to the town to experience this festival celebrating Maori food (kai meaning food).
Kawhia is also home to a little-known hot water beach. New Zealand sits directly on an active fault line with two pieces of the earth's surface constantly colliding. Down on the South Island, this produces the Southern Alps and on the North Island it produces an unusual amount of geothermic heat and volcanic activity. Rotorua is the dead center of this geothermal activity, but in fact you can find hot water springs throughout both islands of NZ.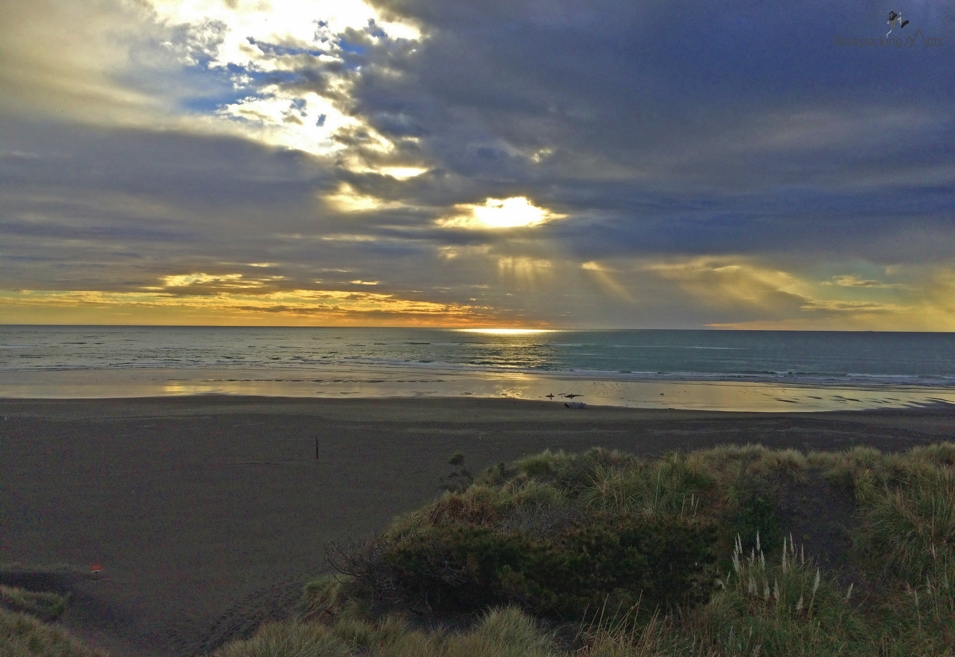 On a beach just outside of Kawhia, you have the Te Puia Springs. You've likely read about Coromandel's hot water beach, but odds don't favor you having read about Kawhia's hot water beach.
They're just MAGIC. LOOK AT THIS VIEW!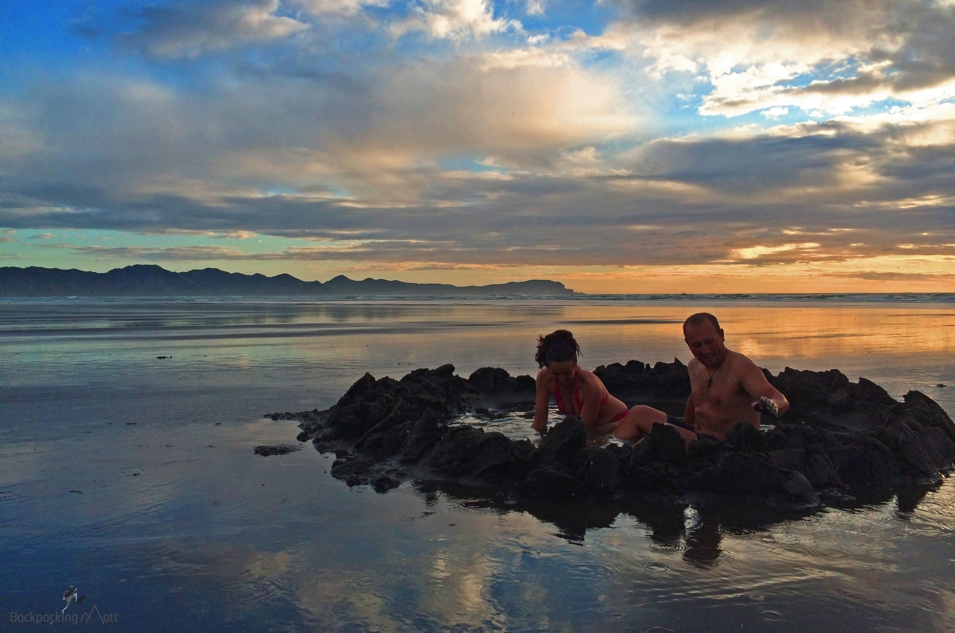 Here's how you find them (but don't tell anyone). Grab a shovel from your accommodation (check out Kawhia Beachside Escape), and head out to Ocean Beach about two hours either side of low tide. Walk up over the dunes, and down to the beach. When the tide is out, you can dig your own personal spa pool that will fill up with geothermic heated water. Sit back, relax and watch the sunset in what must be one of the most epic hot tubs in the world.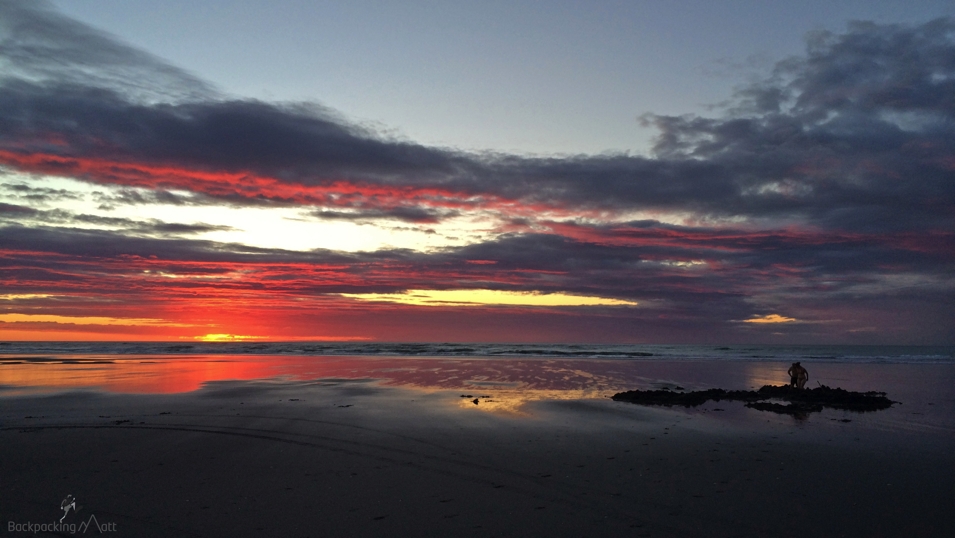 When I visited Kawhia, the town was basically deserted. I shared the views at Kawhia hot water beach with four other backpackers and a local family who was out having a BBQ. I don't doubt come summer, the town will be busier – but I don't reckon you'll run into the massive crowds you'd find in the Coromandel at hot water beach.
Thanks to Europcar NZ for the wheels that got me from Auckland to Queenstown on my roadtrip.
Found this post useful? Awesome! Don't leave, check out the posts below: