Life's a Journey …
If you can relate to the motto of Backpackingmatt.com, then a Life's a Journey t-shirt belongs in your backpack (or your wardrobe).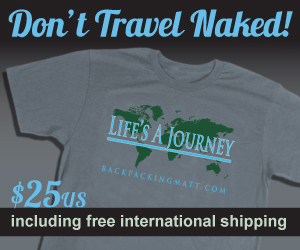 As a backpacker, independent traveler, long term RTW traveler, soon-to-be-traveler, or travel blog addict, you get it.
Life's too short and there is too much to be seen. Whether travel is heading across the state to see your best friend, flying to Ireland to see the family heritage, quitting your job to travel indefinitely, or those precious two or three weeks you get off each year, travel is addictive.
It's these experiences that add to Life's Journey.
If you're always yearning to see someplace new, to experience the unknown and travel to far and away places, then a Life's a Journey T-Shirt is for you.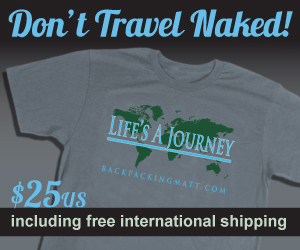 Maybe you just love the travel stories, travel advice, travel videos and inspiration from Backpackingmatt.com? Get a Life's a Journey T-Shirt and wear the brand!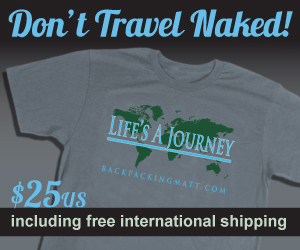 These t-shirts are made for your backpack – high quality screen printed and 150 GSM 100% pre-shrunk  cotton. The shoulder to shoulder tape means they fit well – not like that Singha shirt you picked up on Khao San.
Best of all? They're only $25 including free international shipping.
Get yours now or email matt (at) backpackingmatt (dot) com with questions!
Cheers & Happy Travels,
(Backpacking) Matt