Each summer, my family spends one week in Northern Minnesota. It's a chilled out vacation – the relaxing, fishing, swimming, sunbathing, card-playing, eating, drinking, reading, catching up with old friends, and spending time with family type of vacation.
I love adventure travel. I love backpacking to new places. I love venturing off into the unknown. Yet this annual week-long holiday provides some great memories. There is something to be said for a trip that is routine, relaxing, and refreshing.
Lake Vermilion is found in Northern Minnesota. It's Minnesota's fifth largest lake, and is found a short hours drive from the Canadian Border. Lake Vermilion is a freshwater lake filled with rugged islands and miles, upon miles of untouched coastline. It's a special place in a beautiful part of the US.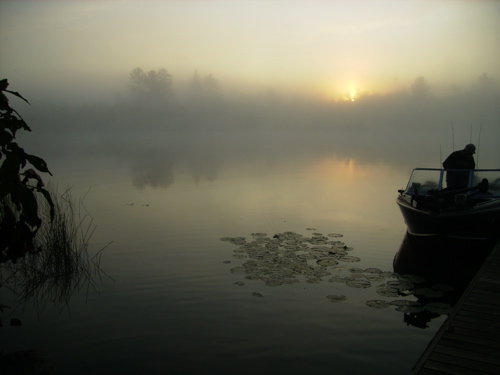 Nicole snapped this photo early one morning before we went fishing with my Dad. She calls it, 'Misty Morning.'
Do you have a photo you'd like featured on backpackingmatt's Monday Escape? Shoot me an email  (matt at backpackingmatt dot com) or use the contact form.