A trip to Scotland's West Coast should include a visit to the beautiful Isle of Mull – a peaceful island home to the Tobermory Distillery. Tobermory itself is a quaint little village situated on a fishing harbor that is lined with brightly colored buildings. It's a terrific village where you could very easily waste away a week or more.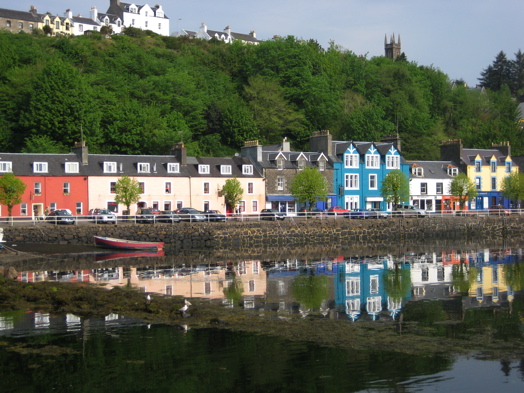 While you're visiting the Isle of Mull, one thing you have to fit into your budget is a day trip to the Isle of Staffa. The Isle of Staffa is a small rocky island off the west coast of Mull that is home to a fascinating and comical seabird – the Puffin. These small little birds are often called sea parrots because of their vivid colors. To get to the Isle of Staffa, you'll have to take a ferry and guided tour from the Ulva Ferry Terminal which is a scenic one our drive from Tobermory. Along the way, you'll pass famed highland cattle and many single track roads.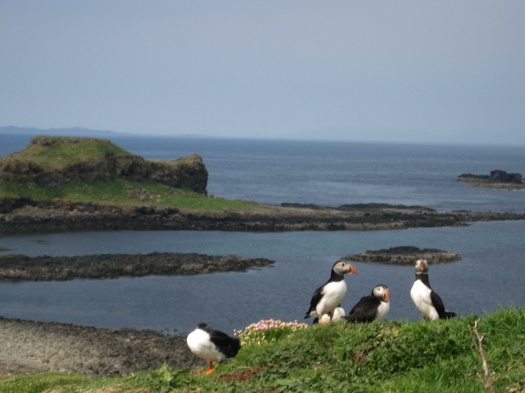 There are thousands of puffins found throughout Britain yet they are often very difficult to spot. Puffins spend much of their time off shore and only come ashore to breed in early April. From April until late July is the best time to spot the puffins while they're feeding and taking care of their young. Puffins are not known for being the most graceful fliers. With the help of their short wings and fat bodies, they really seem to struggle when flying around. I'm no bird-watcher, yet I found it absolutely fascinating to watch the little birds flap around the island. You would never expect the wee things to be able to migrate thousands of miles each year.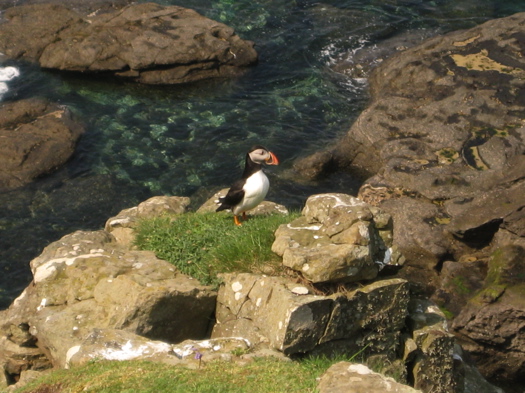 After we arrived at Staffa and were ferried to shore on a small dingy, we clammored up to the cliff tops where the baby puffins nested. They choose to nest at the tops of steep cliffs of inaccessible islands – it's because of this that puffins are often times so difficult to view. The Puffin will lay a lone egg and hatch one chick each year in a burrow dug into the ground and return to the same hole year after year. We were asked to not get to close to these burrows to respect the young, yet you could hear their high pitch squeaking as they were waiting for their mother to bring them their food.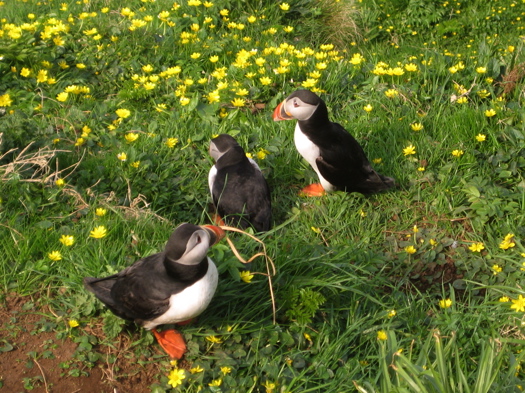 They are fed a diet of sand eels by their parents for about six weeks. After this time, they are abandoned by their parents. Sooner or later, nature results in the baby puffins leaving their burrow out of desperate hunger in the cover or darkness where they will attempt at flying to find their own food. Needless to say, they don't have ample time to learn how to fly or survive on their own.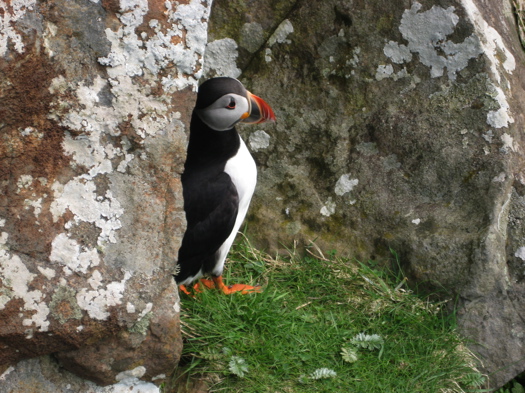 What I found most shocking about the puffins was their tameness. They would fly to within three or four feet of where we were viewing their behavior. It was strangely therapeutic to sit in the warm sun (rare for Scotland!), feeling the breeze of the sea, and watching the fascinating and colorful little animals. The tour was operated by Turus Mara and they provided an excellent experience overall. Our captain provided heaps of information about the area's history, puffins in general, and did a terrific job to make everyone feel comfortable and welcome. While we didn't see any other marine wildlife, there were chances of seeing Bottlenose dolphins, whales, and seals. A tour to the Isle of Staffa lasts four hours and will cost you £25.