If you're planning on taking a backpacker hop-on, hop-off bus around New Zealand, you have two options: Stray New Zealand or Kiwi Experience. I've always recommended Stray over Kiwi, not based on experience but rather feedback from other travelers who have traveled with one or the other.
Over on Planit NZ, I've partnered with Stray and all of the Hop on Hop off Bus Passes you see listed there are run by Stray. Stray's ethos of 'getting off the beaten track' rings true to me. Similarly, they focus heavily on responsible travel with the goal of leaving a positive impact on local communities. How can you argue with that?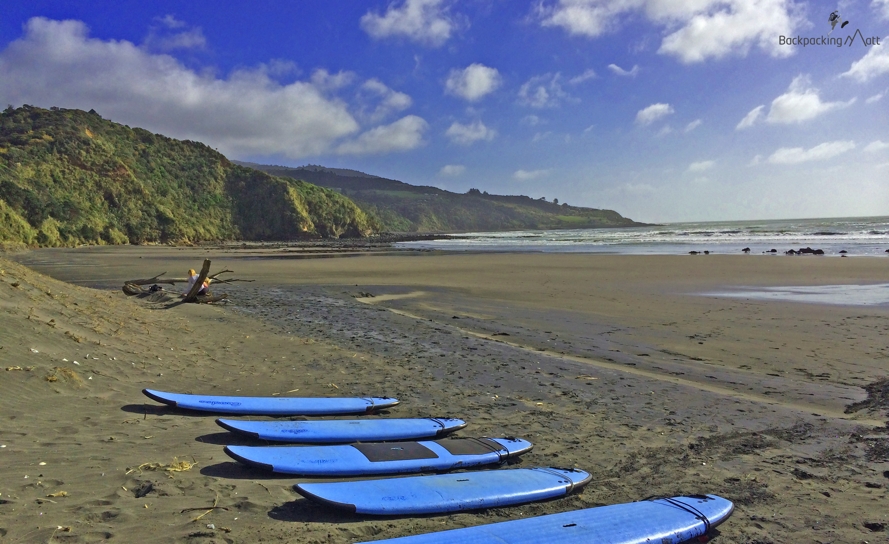 I've just spent four nights and five days traveling around the North Island with Stray, and the experience has been fantastic. The route around the North Island travels through your NZ must-see spots, and equally importantly gets off the tourist trail and into some truly epic and inspiring destinations.
Below I've listed some highlights from the experience – a combination of reasons why I'd recommend Stray, but also highlights from the North Island itinerary.
Flexible travel around New Zealand.
The idea behind a hop on, hop off bus is that you can get all around New Zealand on your own terms. It's essentially a guided bus pass, and one that allows you to hop off the bus literally wherever you want. New Zealand's Kiwiana Town strike your fancy? No worries – hop off the bus and stay awhile.
FYI, Otorohanga is New Zealand's Kiwiana Town – a small town in the Waikato that goes out of its way to display some of the country's most significant cultural icons (think Marmite, the All Blacks & #8 wire). It's also the jumping off point for the Waitomo Caves.
More fun than a public bus and less structured than a fully guided tour.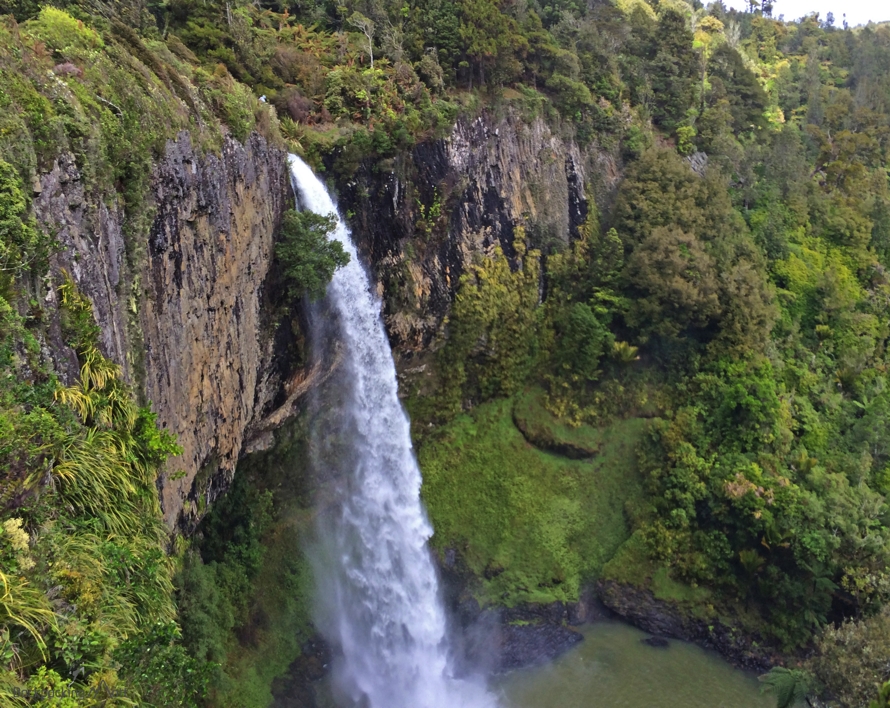 The other option for traveling NZ via bus is through the public bus system. They do go most places around New Zealand, but the downside is they do just that — they travel from Point A to Point B. Stray gets you to the majority of the main destinations around NZ, but ALSO stops off at photo stops or quick walks along the way. Unlike a guided tour, you can hop off when you want (refer to "Flexible travel around New Zealand" above). Because of that, it's especially perfect for working holiday makers – but works even if you have two or three weeks in New Zealand.
You'll learn heaps about New Zealand along the way.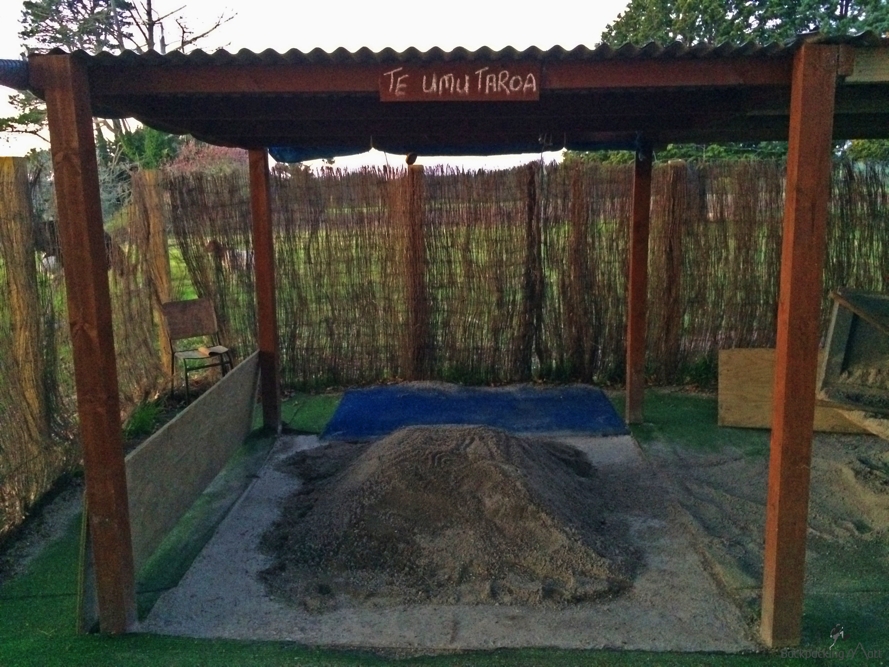 I've been in New Zealand for five years, and travelled pretty extensively around the country – but I still found out so many interesting pieces of New Zealand trivia, history and Maori mythology that I otherwise would have probably never learned. This adds so much to your experience visiting a country, and this ongoing commentary is a huge advantage to a guided trip vs a self-drive tour. Cheers Panda, and thanks for sharing your passion for New Zealand with us.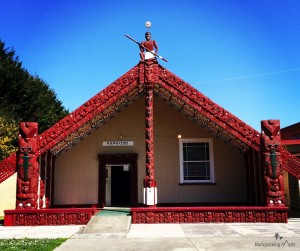 Get off the beaten track.
You'll see places in New Zealand that you didn't know existed.
More than seeing them, you'll get to experience them up close in personal – not just travel through briefly, but get immersed in them. Yes, you'll go through Rotorua – and yes you can hop off if you want to spend a day/night there. You'll also get to spend a night in a real working Marae at Mourea – experiencing Maori culture, song and dance.
You'll get to experience Lake Aniwhenua and stay at the Kohutaupo Lodge.
Tucked away in the middle of the North Island is the small community of Murupara. Years ago, this was a thriving town with the community all involved in the local timber industry; unfortunately, as the timber mills have increasingly become mechanized, unemployment, poverty and crime have begun to take over the town.
The owner Nadine left Rotorua to move back to region, and has opened this lodge on the shores of Lake Aniwhenua with the hopes of a more positive future for Murupara. Nadine's story and her passion for changing the local community was hugely inspiring. After a massive feed of a traditional hangi meal, the Stray bus goes to the local school the next morning and delivers meals to kids — children who otherwise often go throughout the day hungry.
You'll get way, way off the beaten track at the Blue Duck Lodge in Whakahoro.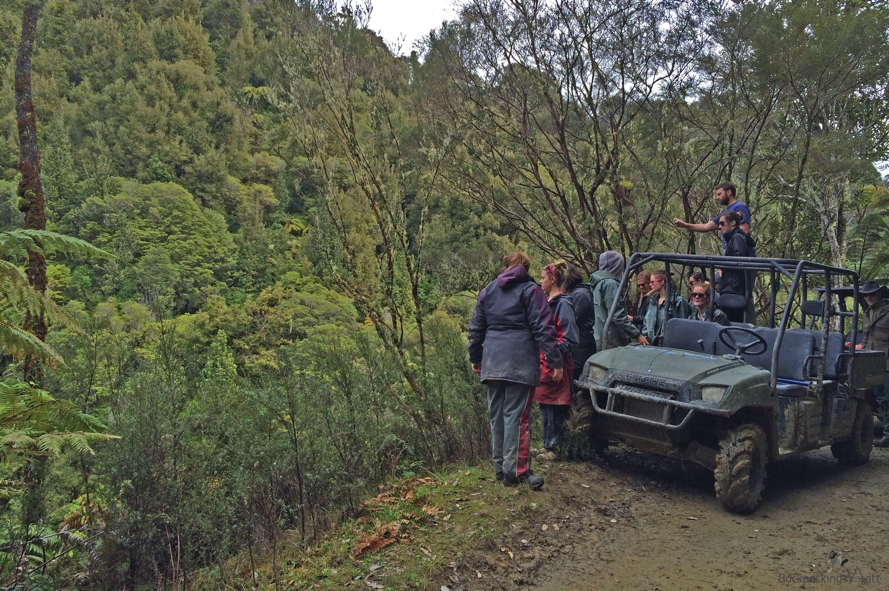 On the edge of the Wanganui National Park, you have the incredibly remote Blue Duck Lodge. This working sheep and cattle station is an hour down a dirt road – literally in the middle of nowhere. The owners are passionate conservationists, and actively working to control the pest population in the native bush found throughout the farm. Pests are a massive problem in NZ – stoats, rats, feral cats, goats and possums are a huge threat to our native birdlife; the hunting and trapping done at Blue Duck is giving these native birds a chance to survive.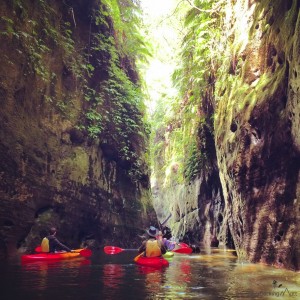 Specifically, as you might guess, Dan & the crew at Blue Duck are working to bring the blue duck population back to the nearby rivers. On a visit to Blue Duck, you'll get to cruise around on the quad bike and hopefully spot some of these native birds. If you're keen, you can also go horse riding, jet boating, kayaking, clay bird shooting or even hunting with Dan. Each night we were treated to a massive dinner of freshly prepared, locally hunted wild goat and wild pig. IT WAS DELICIOUS.
When you finish your trip around New Zealand, it's these places that you didn't even know existed that will blow you away the most. And that's why you should travel with Stray if you're keen on traveling New Zealand via a backpacker bus or tour.
Have you traveled with Stray? Let me know below!