Bali – one of the many islands in the Indonesian Archipelago – is a shockingly beautiful and diverse place. This is no secret as many parts of the island are overrun with five star hotels and resorts. Lovers and honeymooners alike flock here in droves to relax on the beach, soak up the sun, and treat themselves to luxury spas, Balinese hospitality, and excellent food.
Bali is clearly more than honeymooners, spas, and tourist resorts – it's an intensely spiritual island with temples, devout Hindus, and a spectacular array of landscapes. Add to this world class surfing and diving, beautiful beaches, and excellent museums and galleries and Bali is a pretty amazing place to travel.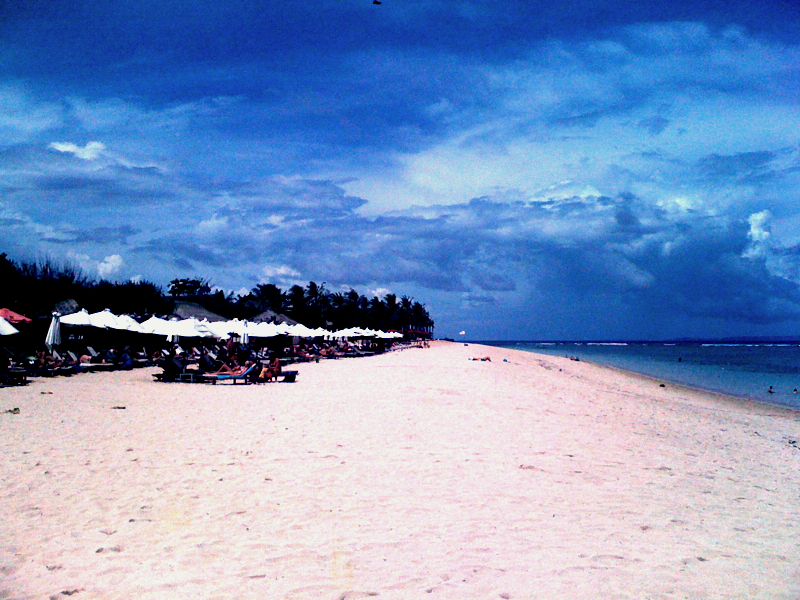 Yet is Bali ideal for the backpacker, budget traveler, or solo-traveler?
I'm not sure. I'll have a better feeling by the time I leave next week. I am sure of one thing:
Bali is best seen and experienced from behind the handlebars of your very own scooter or motorbike.
The first thing you'll notice after leaving Bali's airport is the shocking number of scooters on Bali's roads. They weave in out and of traffic, buzz by you as you're stuck in traffic jams, and somehow make order out of the chaos of Bali's traffic patterns. From children in school uniforms heading to class, to entire families of four or five, to ladies in miniskirts and high heels, everyone it seems in Bali has a scooter – and so should you.

Hiring a scooter in Bali will allow you to get out of the tourist centers, it will reduce your reliability on relatively expensive or unreliable public transport, and if everything goes in your favor it will save you money.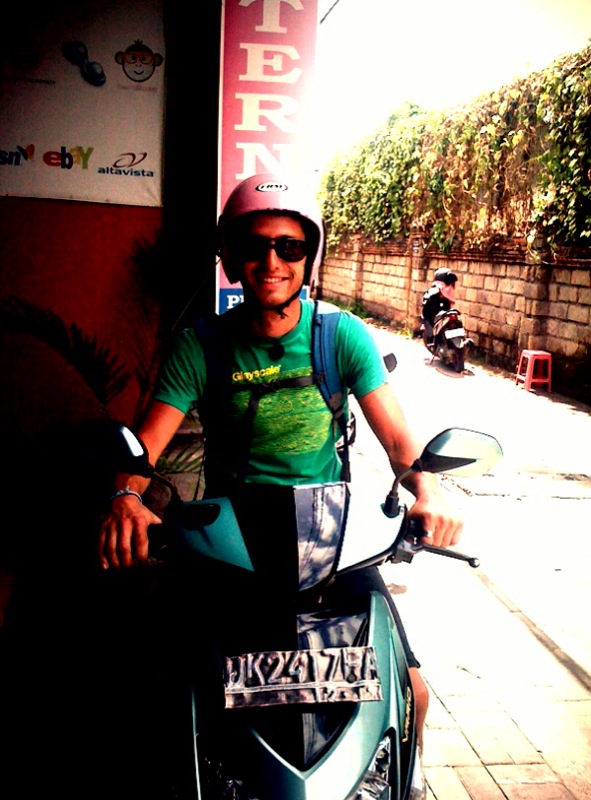 Here is what you should know if you're thinking about traveling Bali on a scooter:
Scooter rentals can be found almost everywhere. Even in the smallest villages I've had hawkers offer me 'motorbike? – motorbike?' Outside of the bigger towns of Kuta or Ubud, chances are it will be a local just trying to make a couple thousand Rupiah off their own bike.
How much? This depends mostly on where you're hiring the scooter. In Kuta where there is heaps of competition, you can expect to pay about 50,000 Rupiah / day ($5.60USD). If you commit to a couple days, make sure you talk the price down. You can get a manual transmission with four gears for slightly cheaper.
Shop around. All you have to do is walk down the street or alleyway in Kuta and you'll be offered scooter rentals. They are literally everywhere. Spend an hour walking around seeing what your options are – compare prices and quality of the scooters as they both vary greatly.
Be careful. Before taking off on my scooter yesterday, I made sure my travel medical insurance was up to date. Even in areas where there is little traffic, the traffic you do encounter seems chaotic through Western eyes. Somehow it all works, and before long you'll be feeling pretty comfortable.
Stay on the left. They drive on the left side of the road in Bali – but also make sure you stay to the left hand side of the lane. Unless of course you're buzzing through a congested traffic jam.
In order to legally drive a scooter in Bali you're required to have an international drivers license. They didn't tell me this when I hired my scooter which caused a minor problem but made for one hell of a story.
Shortly after leaving Kuta, I was over the moon and taking in the rush of cruising along the beach. The combination of the hot wind in my hair, exhaust from traffic in my face, and stunning views of the beach and surrounding mountains was making for an absolutely epic experience.
Everything changed as I came upon a police check point. Ten or so uniformed police officers were randomly stopping traffic as they passed checking for registrations and licenses. I assumed I would be fine as the rental agency didn't mention anything about my Iowa license.
"Problem," the officer said as he looked at my license. He pointed at a piece of paper and said, "For you, 1,000,000 Rupiah ($100 USD) fine or we take your license." I then made the mistake of opening my wallet to show him my rental agreement. "Ah, unless you pay now," he said, "Problem okay."
Knowing now what was coming, I began pulling notes out of my wallet. He kept shaking his head until every last note was gone. Luckily this was only about 300,000 Rupiah ($30 USD). "Okay," he said. "You go. Problem fixed."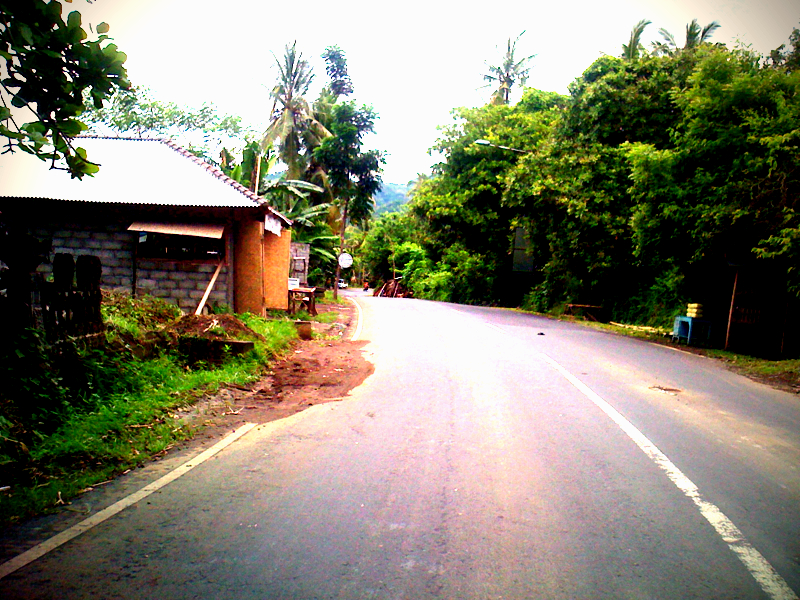 If you're traveling Bali in a scooter and don't have an international license, make sure you keep your notes in separate places. From what I've picked up now talking with other locals, typically a foreigner can get away with a 50,000 Rupiah pay off – have a couple 50,000 notes handy and when pulled over play up that you speak little English; act confused, hand them money, and you should get sent on your way.
The whole experience rubbed me the wrong way; especially after finding out I should have been able to get away for significantly less. Nonetheless, I should have done a bit more research and planned accordingly.
Cruising around Bali yesterday on my well-used Honda was exhilarating, it was terrifying, it was freeing – and it's something you must experience while you're here.
Have you traveled anywhere in SE Asia on a scooter? Have you dealt with a corrupt police officer while backpacking? Leave your experiences in the comments section below.