On my interrail trip across Europe in 2008, I decided to begin my journey across the continent in Amsterdam. Amsterdam was a 'must see' for me and should be for any backpacker.
Considering its location, Amsterdam is a logical place to start your interrail trip. You can head south to France via Belgium, or you can head east to Germany. Whichever path you decide to take, Amsterdam is beautiful city and well worth a couple days of your time.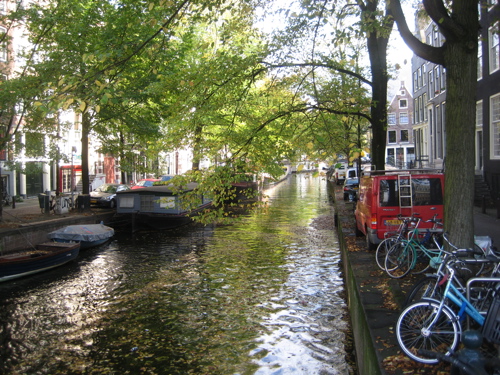 Amsterdam is often referred to as the 'Venice of the North.' It's full of picturesque canals, 17th Century cobblestone streets, beautiful parks, famed coffeeshops, and terrific museums. And, well, prostitutes. With decriminalized drugs and legalized prostitution, Amsterdam undoubtedly has quite the reputation among backpackers. But if you visit Amsterdam and walk away only knowing the Red Light District and a couple of coffee shops, you've missed out.
Don't miss …
The Van Gogh Museum – though it's a trek from the city center, this museum can't be missed. It houses the lagest Van Gogh collection in the world and is an amazing place to spend a day.
The Houseboat Museum – on many of Amsterdam's canals, you'll come across houseboats which serve as homes for many of Amsterdam's permanent residents. This small museum (or houseboat) gives you a taste of what life living in a boat would be like. Well worth your four Euros.
The narrowest house – Amsterdam's (and perhaps the world's) narrowest house is found at Singel 7. It's only three feet wide and is certainly a site to see.
Find more more Amsterdam pictures here.