I'm not typically a fan of bus tours. To be fair, I haven't been on many – but, when given the opportunity, I'll always choose solo travel over guided bus tours. I can't personally think of anything worse than being stuck on a coach full of young backpackers who are just looking for an excuse to party. Nonetheless, as Steph over at 20 Something Travel has eloquently said, we're all travelers at the end of the day.
There are times when a bus tour is the right option. I recently spent some time in the Northland of New Zealand. It's a beautiful place with ancient Kauri trees, dolphins, overnight backpacker cruises, and beaches. One particular beach which begs to be visited during your time in New Zealand is the 90 Mile Beach.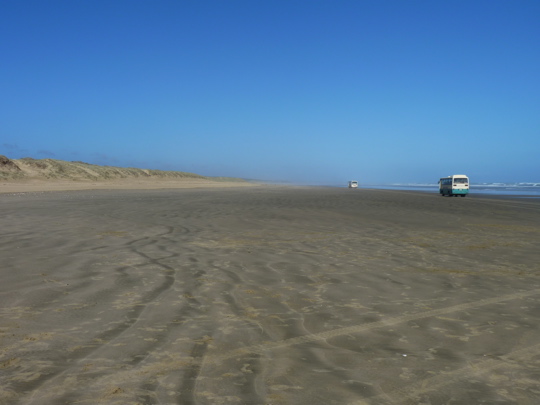 As you might expect, the 90 Mile Beach stretches for some 60 miles and is a major draw for backpackers in New Zealand. It's a long stretch of packed white sand where travelers and locals alike often take their vehicles. If you really want to expereince 90 Mile Beach, you need to be in a vehicle cruising at sixty miles an hour with sand dunes on one side of your vehicle and the Tasman Sea on the other. It's a bizarre experience, and if you don't want to run the risk of getting stuck, blowing a tire, or worse – then I recommend you sign up for a bus tour.
Most of the tours which take you on 90 Mile Beach also take you to New Zealand's northern tip of Cape Reinga. These tours either leave Paihia or Kaitaia and while Paihia is drastically nicer than Kaitaia, you're much closer to 90 Mile beach in Kaitaia and it's the logical place to start your bus tour. You have a number of different companies to choose from, but I found Harrisons Cape Runner to be the most budget friendly option.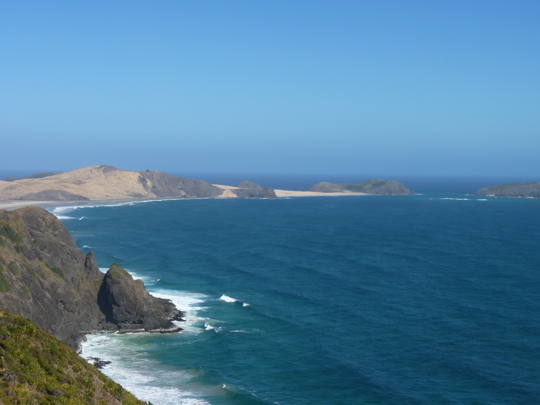 The tour leaves from Kataia and heads north to Cape Reinga with a number of stops along the way. We went to a Kauri Museum where there is the opportunity to view ancient Kauri trees which have been excavated from local swamps – these Kauri trees are thousands of years old and were nearly as big as the massive coach the tour went on. There were a couple more stops on the way north. I found most of them to be pointless, however I guess they're essentially mandatory toilet stops for any customers that can't – hold it – for over an hour. We stopped at a couple beaches and the most northern general store in New Zealand where we were encouraged to try, "New Zealand's best ice cream."
Herein lies one of my biggest complaints with any sort of organized bus tour. You loose the freedom and flexibility you would have if you were traveling solo. Don't get me wrong, I like ice cream, but I was far more keen to get north to Cape Reinga.
Cape Reinga
Cape Reinga is known for being the most northern point in New Zealand (in fact, a point east of the Cape is the northernmost point) and is found about 100 kms north of Kaitaia.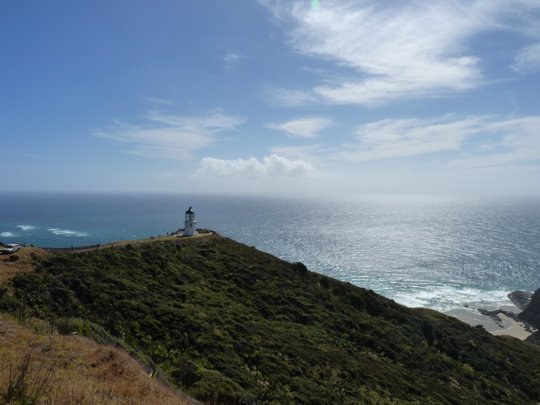 It really is a stunning place and is especially important in Maori spiritual culture. The word Reinga in Maori means "Underworld." Maoris believe that after you die, your spirit makes its way north over New Zealand and along the 90 Mile beach before entering the underworld after leaping off the Cape. Another Maori name for the area is, Te Rerenga Wairua which translates to the, 'leaping-off place of spirits.'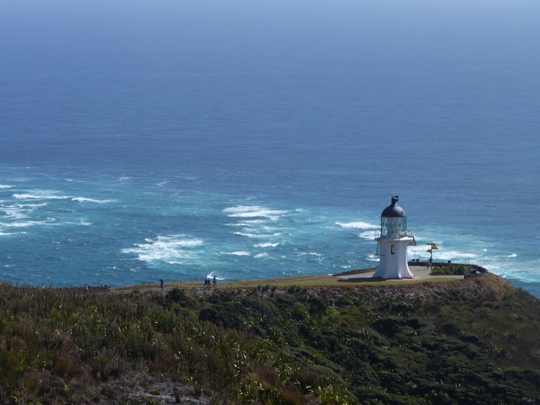 The spiritual importance of Cape Reinga aside, it's a magical place and is especially stunning on a clear day. The Tasman Sea on New Zealand's west meets with the South Pacific on New Zealand's east just north of the Cape. From the Cape you can see an area of especially rough and choppy water where the two seas meet.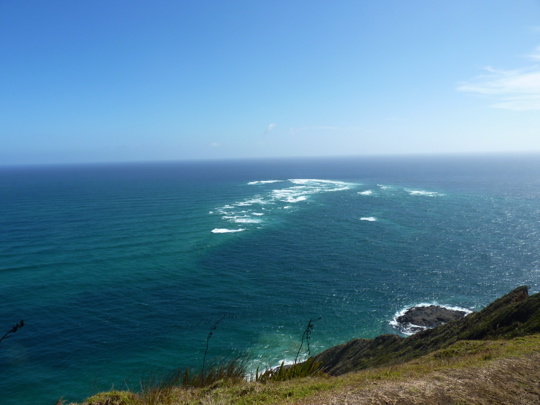 It's a dramatic site with the power of the two seas clashing just below the lighthouse viewing platform.
Sand Dunes
After spending time at the Cape, we boarded the bus and made our way south towards the 90 Mile Beach. Just before arriving at 90 Mile Beach, we stopped to see the massive sand dunes which are found just inland from the beach. These towering hills of sand are quite impressive to see. Harrisons provided our tour group with plastic sand sleds. After climbing to the top of the sand, you can ride the toboggan of sorts down. They went surprisingly fast and seemed quite dangerous. Only in New Zealand could you do this without signing a waiver that said you wouldn't sue the company if you broke your arm.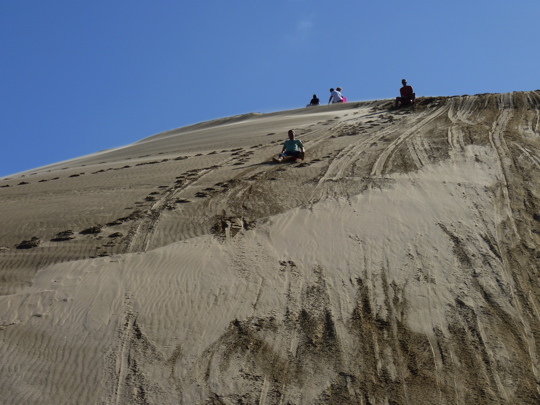 90 Mile Beach
90 Mile Beach itself only stretches for about 60 miles. When missionaries had to travel the beach via horseback, they assumed their horses could travel 30 miles each day. It would take them three days to travel the beach, so they ultimately named it the 90 Mile Beach. Their math was flawed as they didn't take into consideration the fact the horses traveled slower in the sand.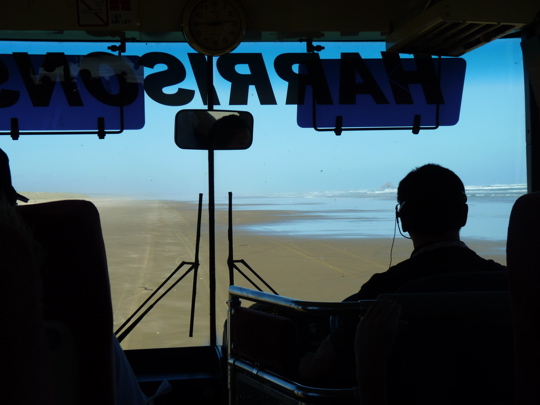 With white sand, beautiful blue water, and the surf stretching as far as you can literally see, it's an absolutely stunning sight. Many a tourist has unsuccessfully attempted to travel 90 Mile Beach in their own vehicle – only to find themselves stuck. The bus drivers know the tide times, areas to avoid, the best access and exit points, and how to navigate the small streams which run onto the beach. Considering this, most of the time, they do it successfully.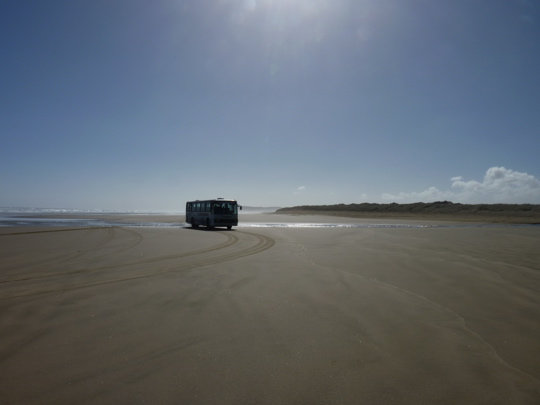 I really enjoyed my experience with Harrisons. We had an excellent Maori guide who provided heaps of information throughout the entire trip. While there weren't many backpackers on our tour, there probably should have been more. It's your most budget friendly option at only $45. This rate is for their full day tour which leaves at 9, returns at 5, and includes lunch – one of the few bargains in New Zealand.