When I first made plans to move to New Zealand, buying a campervan was never something I imagined myself doing. While I am here on a working holiday, I didn't suspect I'd want to invest in a vehicle. I have never owned a car in the US, and I certainly didn't think I would buy my first vehicle as a backpacker in New Zealand.
I thought wrong. Shortly after arriving in Auckland, Nicole and I began to realize that traveling in a campervan was the ideal way to get around the country. We didn't want to be committed to the schedules and routes of an InterCity bus. We didn't want to be trapped in a Kiwi Experience bus with loud, 18 year old, gap year drunks. And we absolutely didn't want a Kiwi Experience bus driver deciding what corners of New Zealand we would get to see.
We wanted the flexibility of going where we wanted to go, when we wanted to go there. Having your own car or van allows you to see more of New Zealand than you would if you traveling by bus. Also, we decided to buy a van on the assumption we'd save money in the long run. Instead of paying $25-30 a night for a hostel, we often stay for free in the van.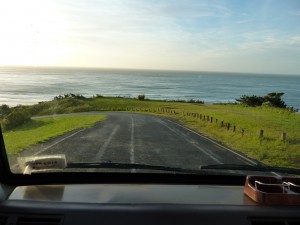 We bought our campervan, Max, in Auckland. Here's how you can do it too:
Buying a campervan (or car) is a very realistic option for the working holiday maker or backpacker who is traveling to New Zealand for more than a couple weeks time. If you're here for much less than two months, I wouldn't suggest buying a car. While it's an easy process, you run the risk of spending too much time looking for and then attempting to sell your vehicle.
Where to look …
There are plenty of older, affordable cars and vans throughout New Zealand. Many of these have been passed down from backpacker to backpacker. These are your best bet and you'll have the most luck looking for your van in one of New Zealand's population centers: Auckland, Wellington, or Christchurch. Chances are, they'll be cheaper in a city where there are more options.
Hostels will have notice boards listing various backpacker related items for sale. These items will very often include backpacker cars and vans. Spend an afternoon looking around the hostels in one of New Zealand's cities. In Auckland, I stayed at Base ACB (a terrible hostel which I don't recommend). They actually had an entire notebook with various backpacker cars and vans for sale. It was a terrific resource.
I also recommend you check out Backpackerboard.co.nz's online listings. This is where I found Max, and it includes a constantly updated list of backpackers' vehicles for sale. There is no middleman involved, so you'll get what the seller thinks the car or van is actually worth. If you're unable to find a van using hostel noticeboards or online listings, your next best bet is to look at a Backpackers Car Market.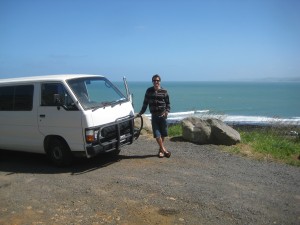 You'll find a Backpackers Car Market in both Auckland and Christchurch. Often, these are where backpackers end up selling their cars or vans if they wait to long to do it on their own. These companies buy cars and vans from backpackers, and sell them back to backpackers. Expect the prices here to be significantly higher than they would be if you find a personal sale elsewhere. Nonetheless, the car markets often have good, quality vans. Before they can be sold, they are required to have a mechanical check. Chances are, you won't get stuck with a lemon as the Car Market wouldn't want to buy a lemon.
Lastly, you can check out Car Fairs in many of New Zealand's larger cities. These will have a much wider selection of cars, trucks, and vans, which aren't going to be specifically geared towards the backpacker. If you find a van at a Backpackers Car Market, or on a hostel notice board, or on Backpackerboard, chances are these will be converted with sleeping facilities, cooking supplies, maps, guidebooks, and anything else you might need on the road.
Things to consider before you buy …
Warrant of Fitness (Wof): All vehicles on New Zealand's roads must undergo a test to ensure they're safe for the road. A Warrant of Fitness essentially says that your van is roadworthy and safe. Older vehicles must undergo a WoF inspection every six months.
Considering this, I recommend you look for a van that has been recently WoFed. You'll be guaranteed no immediate expenses – baring something doesn't go wrong mechanically. If you buy a van which has to have its WoF inspection in three weeks, you run the risk of a garage bill of hundreds of dollars.
You might also consider arranging to take the vehicle you're interested in to a mechanic to have a general inspection of the vehicles' health. This shouldn't cost you over $100.
Registration (ReGo): Similar to the WoF, all cars on New Zealand roads are required to be registered. While not a huge expense, it will cost you about $100 for every three months of registration. Check to see how long the car or van you're buying is registered for. All registration labels are found on the top, left hand corner of the windshield.
Gas or Diesel: One of the first things you'll notice about fuel prices in New Zealand is the stark difference between the price of diesel and gas. Diesel is significantly cheaper – at the moment, about seventy cents cheaper per liter. On the surface, you'd expect to save heaps of money with a diesel van. In reality, you don't end up saving any money. In addition to a Registration fee, you're required to pay road user charges for each 1,000 kms you drive.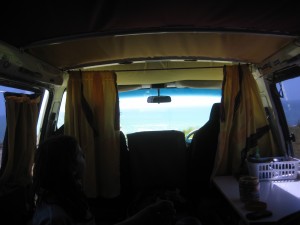 Supplies: Does your van come with a New Zealand atlas? What about a gas cooker? Or pots and pans? These items add up quick quickly in New Zealand. Consider what things are or are not included when looking for a van.
After you find your van …
I was shocked by how easy it was to complete the purchase of my van. After you've paid for your new ride, a quick trip to any Post Shop will allow you to finish the deal. You'll need to file for a change of ownership which will cost you about $10. You'll need to list an address on this form, but the address of the hostel where you're staying will do.
Believe it or not, insurance is not mandatory in New Zealand – not even Third Party Insurance. This actually makes buying insurance a pretty good idea in my mind. I was surprised to find the process of insuring my van cheap and easy.
BBH (Budget Backpackers Hostels) offer third party insurance packages specifically geared for backpackers. They can be purchased online. It's quick and easy, but it's also overpriced. If you'll be in New Zealand for a short period of time, it's arguably the way to go. Policies for as little as three months can be purchased and would cost you $180 if you were over 25. The longer your policy, the cheaper the cost.
I opted to go with Kiwi Bank Auto Insurance. You can find details at the Post Shop when you're transferring ownership of your new vehicle. This option is significantly cheaper. I pay just about $30 a month to insure my van with Kiwi bank – and, in addition to third party insurance, I get full coverage plus fire and theft.
How much?
How much you spend will depend on a number of factors. If you're buying at the start of the summer, you'll pay significantly more than you would in the middle of the winter. Either way, you can expect to pay $3000 or more for an adequate campervan with sleeping facilities. You could get away spending less than $2000 if you went the car route.
This is certainly easier to stomach if you're traveling with a friend. Also, you can plan on getting all or a good portion of the cost back when you decide to sell. Do realize if you're buying in the summer, and selling in the winter, you may inevitable lose some of what you paid.
Buying a van in New Zealand is a straightforward process. It's so easy, a backpacker can do it. And you should.
Are you considering buying a car or van in New Zealand? While I hope this post was hopeful, I trust it didn't answer all of your questions. Send any questions you have my way. Use the contact form or email at (matt) at (backpackingmatt) dot (com)