Today's Monday' Escape takes you to Vejer de la Frontera – one of the most beautiful, yet forlorn, towns on the Ruta de los Pueblos Blancos in Southern Spain.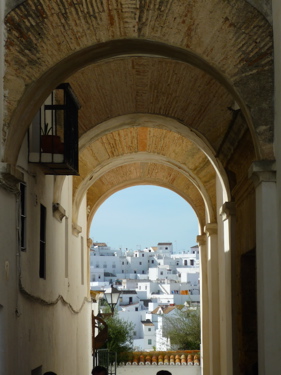 The old, whitewashed village (save for the iron gates along the walls and the exotic flowers snaking up buildings) is known for having the highest suicide rate of any municipality in Spain, but the atun a la plancha (grilled tuna) from nearby Barbate can bring you back to life. The town can be a little, well, dead during the afternoon siesta hours, so it's suited for hiking the hills and visiting the ruins of the old Moorish castle after a quick lunch in Bar Navarro (C/Juan Bueno, 8).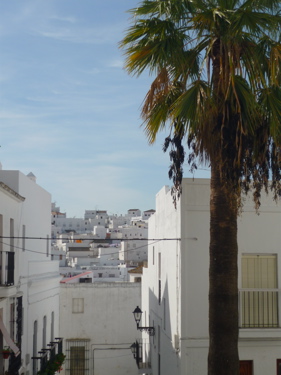 The best views of the countryside and Mediterranen are seen from the casco antiguo, starting from Plaza de Espana and snaking up the old city ramparts. From here, you can see the Cabo de Trafalgar, where the British Royal Navy defeated Napolean's fleet in 1805. The wind, said to be the reason for so many suicides, can turn chilly, so dress in layers. The pace slows down even more at night, so it's best to stay Cadiz for a bit more nightlife.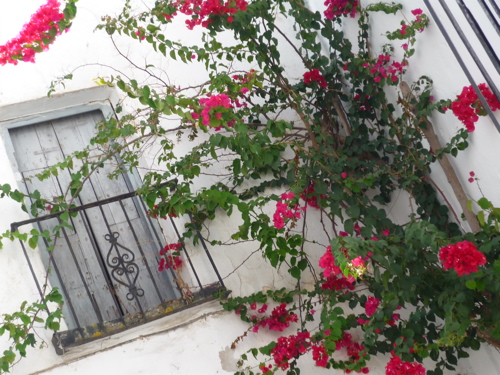 Not to be missed at the excellent beaches (and fresh seafood!) of Conil de la Frontera and Zahara de los Atunes, each a 20-minute ride in either direction.
Thanks to Catt Gaa from Sunshine and Siestas for providing today's Monday Escape. Cat is an expat who currently teaches English in Sevilla. Read Part 1 and Part 2 of my interviews with Cat about her experiences teaching English in Spain.
Would you like to see your pictures featured on Backpackingmatt's Monday Escape? Email me at matt (at) backpackingmatt (dot) com