New Zealand continues to amaze me with everything it has to offer. In an area the size of Colorado, US, you have beaches, mountains, glaciers, desert vistas, green rolling hills, and rain forests. With those landscapes on offer, you can go on multi-day hikes or scenic helicopter rides over the Southern Alps. You can sample world class wine or bungy jump from 134 meters. You can catch some of the biggest trout in the World, tour organic breweries, or check out some amazing marine wildlife. Recently, I did just that. I had the opportunity to go whale watching in Kaikoura, and it stands out as one of my greater experiences in New Zealand to date.
Kaikoura and the Kaikoura Canyon
Kaikoura sits in a picture perfect spot. It's a small, seaside town, found right at the base of the Kaikoura Seaward Range. Come winter, you'll have the Pacific Ocean on one side and snow capped peaks on the other. It's absolutely stunning. What makes Kaikoura unique though is the plethora of marine wildlife which are found just off the coast. Kaikoura is home to such a large number of marine mammals because of the unique continental shelf and oceanic currents which are found just offshore.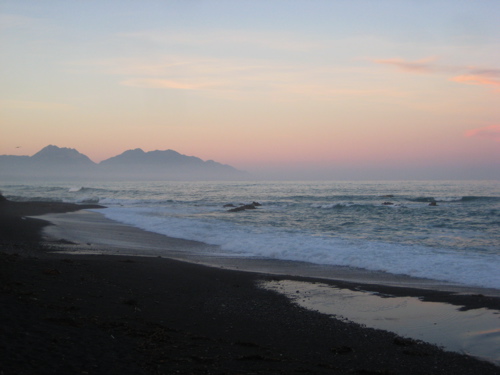 The ocean depth gradually falls to about 100 meters before plunging to depths of 1,600 meters deep – just two kilometers away from shore. Two currents collide here in the Kaikoura Canyon and create an upcurrent which brings the nutrient rich waters to the surface. Along with the nutrient rich waters come smaller fish, which bring bigger fish, which ultimately bring the world's largest toothed whales.
The Sperm Whale
While many different types of whales can be seen off the coast of Kaikoura depending on the season, the star of the show is the Sperm Whale – seen year round. The Sperm Whale is the largest toothed whale in the world and can reach up to 18 meters in length (59 feet). They're massive creatures and the reason why thousands of people flock to Kaikoura throughout the year.
The Tour: Whale Watch Kaikoura
Whale Watch Kaikoura runs a fantastic trip and is your only marine option to view the Sperm Whales. There are a number of helicopter and airplane tours that go out in search of the whales, but I don't think that would be as impressive of an experience. You'll see more of the whale, but will be doing it from high above.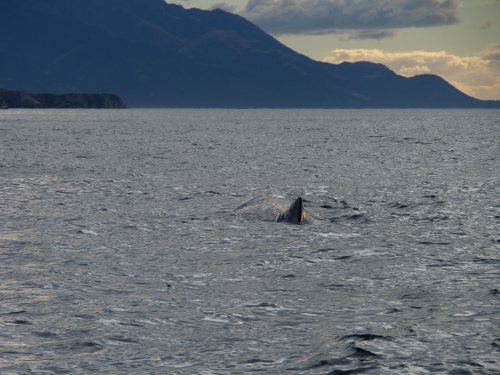 Whale Watch Kaikoura has been in the whale watching business since 1987 and they run an excellent tour. They have a fleet of purpose built power catamarans that go out in search of marine wildlife. From start to finish, they did an excellent job preparing you for the whale watching experience. Upon check-in, they gave us the sea conditions and encouraged us to take medicine should we be prone to sea sickness (the seas were actually quite calm). The high speed catamarans that Whale Watch runs are a necessity as the Sperm Whales only come to the surface for a very short period of time.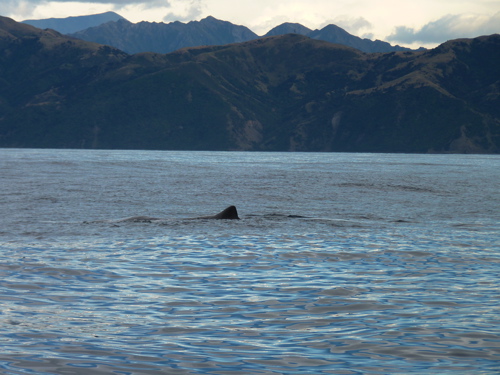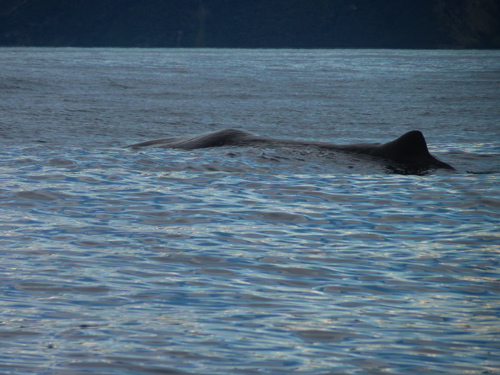 Being such massive mammals, you can expect that Sperm Whales eat a great deal of food. And they do. The average male Sperm Whale will eat up to one and a half tonnes of food each day – primarily small squid and fish. To find this food, the whales dive to astonishing depths and spend the majority of their life underwater. The Sperm Whales will dive to up to 2,000 meters deep – over a mile below the surface. They spend anywhere from 40 – 60 minutes underwater before returning to the surface to rest. As they've held their breath the entire time, this time at the surface is spent re-oxygenating.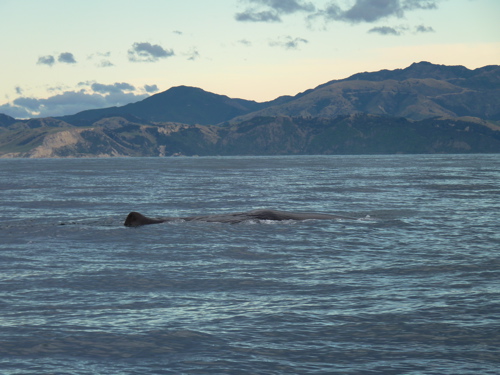 This behavior is key to remember if you're considering a whale watching tour. It's a fantastic experience, yet it's important to realize that you're not realistically going to see Sperm Whales breaching the water. Whale Watch Kaikoura runs very fast boats as the whales will only spend around 8 – 10 minutes above water. We arrived at the sighting of a Sperm Whale and were lucky enough to have him at the surface for almost ten minutes. During this time, the whale is resting and exhaling which causes water to spray high into the air. It makes for a really moving experience.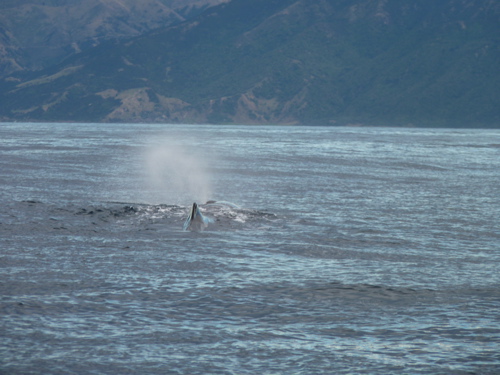 We were especially lucky as Tiaki (they identify the whales by markings and name them for reference) was exhibiting some extremely rare behavior: surface feeding. After the whale seemingly disappeared to the depths of the ocean, he resurfaced only minutes later. Typically, they won't come to the surface for another hour – but Tiaki began feeding on fish that were near the waters surface. As these pictures hopefully show, it was unbelievable.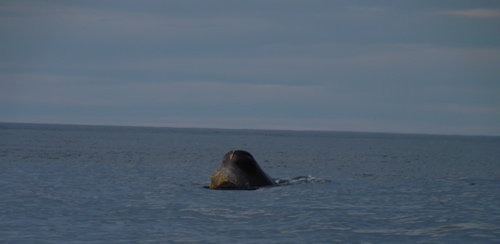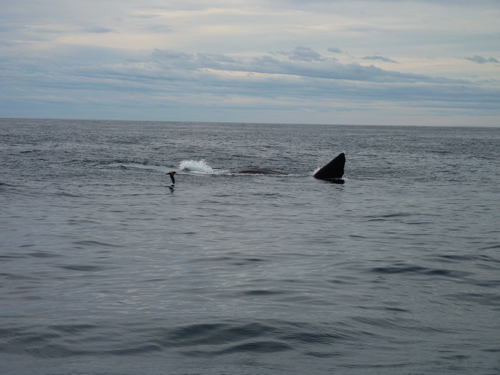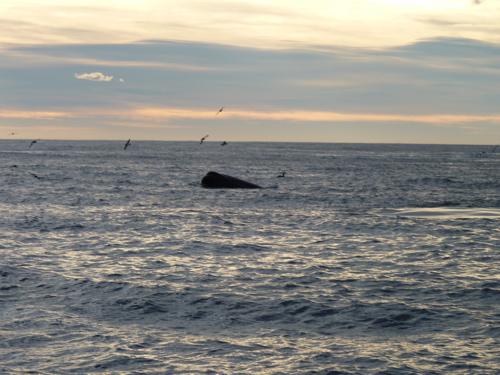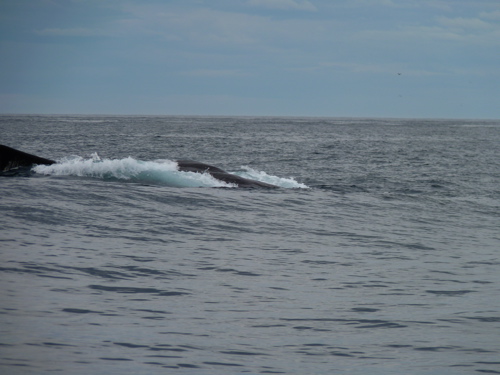 The moment everyone waits for is when the Sperm Whale heads back down to 2,000 meters to begin feeding again. Right as the Sperm Whale prepares to dive, it's fluke (tail fin) breaches high out of the water as it heads down at speeds of about 150 meters per minutes. It's an absolutely fantastic sight.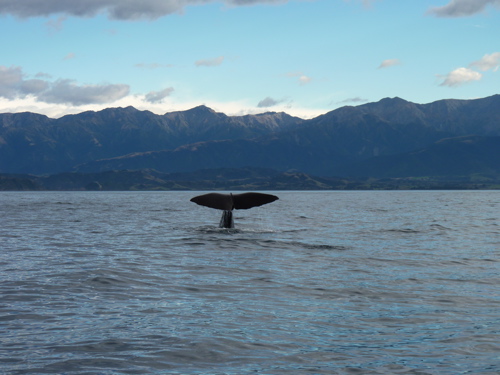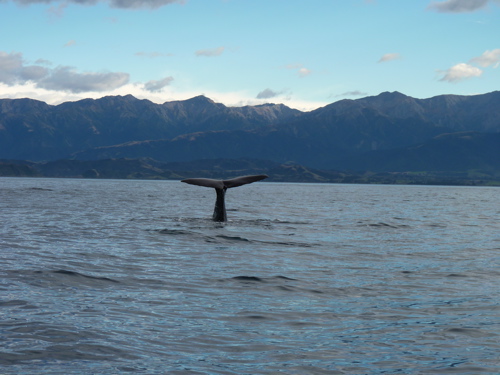 Dusky Dolphins
After we spotted the Sperm Whales, we set off to find more marine mammals. We were successful and came across a huge pod of Dusky Dolphins. These dolphins are a very common site in the waters around Kaikoura. They're smaller than Bottlenose Dolphins at only a couple meters and extremely acrobatic. We pulled up into a bay with literally hundreds of them swimming around, jumping, flipping, and playing with our boat. It was fantastic, and definitely one of the highlights of the tour.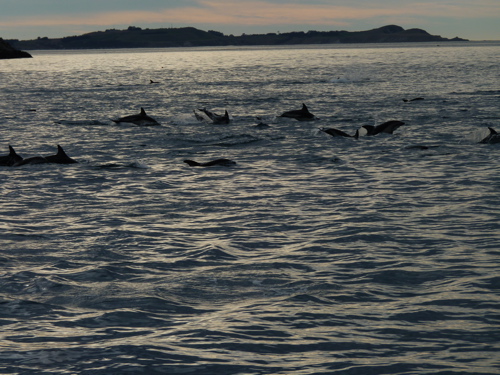 An Educational Experience
Aboard our Whale Watch boat we had a whale spotter and two guides who did a fantastic job of educating us about the Kaikoura region, the Sperm Whales, and other marine life we encountered (New Zealand fur seals, Albatross). While the boat was in search of the whales, we were required to remain in our seats inside the cabin. I was initially turned off by this until I realized how fast the boat was actually going in the open sea. While you're in the cabin, our guide did an excellent job with a video presentation on a flat screen TV. She gave history of the Kaikoura region, information about the Kaikoura Canyon, and went into great detail about the Sperm Whales we were setting off to see.
It was a terrific whale watching trip, and one of the many things you must attempt to do while you're in New Zealand.
Considering a tour with Whale Watch Kaikoura? Here is some information to get you started:
Cost: The half day Whale Watch trip will cost you $145. If you don't spot a whale, they'll refund you 80% of your ticket price (but they spot them 95% of the time).
Location: The tours leave from Kaikoura town (South Island), about 2 1/2 hours north of Christchurch or south of Picton.
What about the airplane / helicopter option? These will run about the same price as the boat tour, yet last only about 30 – 45 minutes.
When to go? The Sperm Whales are seen year round. I went on the first tour of the day and recommend it. It's a very early start, but the seas are typically calmer in the morning and the light was fantastic for pictures.
Is it worth it? Yes. As long as you don't expect whales jumping over the boat, and consider the experience and pictures outlined above, it's an absolutely fantastic trip. Well run, friendly staff, and a great half day experience.
Disclaimer: Whale Watch Kaikoura provided me with a complementary tour in return for a review on Backpackingmatt.