Each summer, thousands of backpackers and other budget travelers flock to New Zealand for a number of reasons – the sun, the beaches, the hiking, or the jaw-dropping landscapes that New Zealand provides. Many of these travelers come to New Zealand to hike a 'Great Walk' – one of several tramping tracks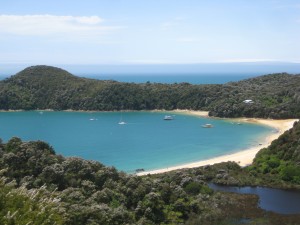 found around the North and Sound Islands. Be it the Milford Track on the South Island, or the Tongariro Circuit on the North Island, these tracks are inexpensive and rewarding ways to travel New Zealand.
One of these Great Walks is the Abel Tasman Coastal Track which is located only an hours drive away from Nelson in the Abel Tasman National Park. The track takes you through dense rain forests with views of beautiful blue bays and tropical islands, across white sandy beaches, and provides an excellent opportunity to take in some fine, New Zealand views. From end to end, the Abel Tasman Coastal Track stretches 51km and can be completed in anywhere from 3 to 5 days, depending on your motivation and level of fitness.
If you're short of time, without a tent, or perhaps questioning your level of physical fitness, here's how to experience the best of Abel Tasman in a day.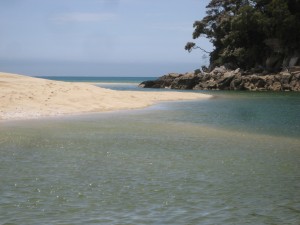 Marahau is a small, wee settlement at the Southern end of the track – a long hours drive north of Nelson. Water Taxis leave daily from Marahau to various points along the Abel Tasman Track. Your best bet is to spend the night in Marahau and catch an early ferry up the coast the next morning. Operating out of Marahau Beach Camp, Marahau Water taxis will take you north to Bark Bay for $36 one-way.
Approximately an hours boat ride north, your water taxi driver does an excellent job of filling you in on a number of interesting points about Abel Tasman National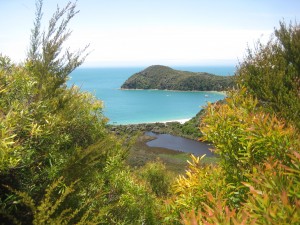 Park and its history. From Bark Bay, you have a beautiful, 21km walk back south to Marahau. A relatively flat, gravel path allow hikers of all ages and abilities to take in the park's scenery.
Don't forget to bring your sunscreen – many sections of the track are unprotected from the strong, New Zealand sun. Additionally, don't let the potential swarms of sandflies ruin your walk. While I didn't encounter many, I can only imagine one of the beaches is named 'Sandfly Beach' for a reason. Lastly, if you do hope to spend a couple nights in the bush, be sure to book your accommodation well in advance. The few DOC (Department of Conservation) Huts fill up quickly – you'll want to bring your tent as a last resort.
A terrific, budget-friendly day trip, you can experience Abel Tasman in a day for less than $50. Finish your day at The Fat Tui, a small food trailer tucked under some New Zealand palm trees. This little joint serves up some outstanding fish and chips and may produce one of the best burgers I've ever tasted. A well deserved meal after a beautiful days hike.