Franz Josef Glacier is 12 kilometers long and found on New Zealand's West Coast (South Island). It's the world's fastest moving glacier – moving at speeds of up to one meter per day. Big Franz Glacier is located only 300 meters above sea level and is surrounded near its base by temperate rainforest.
It's a fascinating sight, as this photo hopefully shows.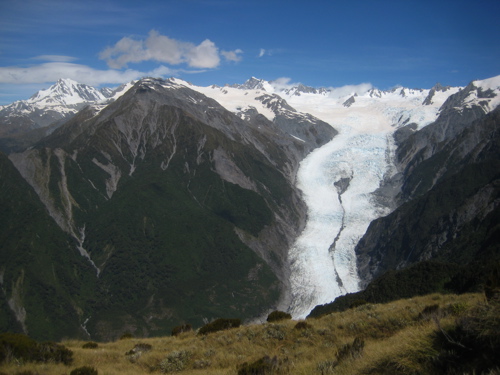 You have a number of different options if you want to see the glacier.
You can go on a guided glacier tour with Franz Josef Glacier Guides. Read my review of the experience here.
Also, a number of different companies in Franz offer helicopter tours. Check out this post for some great pictures from one of the flights.
I took the photo featured here from the summit of Alex Knob. This 4,249 foot peak can be reached in about four hours. The trail head leaves from just outside of the village.
It's a challenging walk, but you're afforded superb views of the glacier, the surrounding mountains, and the Tasman Sea – so long as you go on a clear day. The earlier you start, the better your chances of reaching the summit before the afternoon clouds roll in.
Do you have a photo and a brief write-up you'd like featured on Backpackingmatt's Monday Escape? Email me at matt (at) backpackingmatt (dot) com. I'll gladly post your photo with a link back to your blog. Cheers!