There are plenty of blogs out there encouraging people to travel. I consider Backpackingmatt to be one of them.
I believe in the importance of experiencing the unknown, learning about new cultures, meeting new people, and gaining a better understanding of this world we live in.
It's a big place, and I for one want to see of much of it as I can.
Many of these blogs very often make backpacking out to be a very glamorous affair. In some respects it is. I love the freedom of being relatively nomadic. I get to see new places, meet new people, and don't have many of the day-to-day responsibilities that my peers back home do.
Last week, I went on a boat tour of beautiful Milford Sound. The week before that I went whale watching. The week before that? An overnight cruise in the Bay of Islands.
There are plenty of advantages to traveling – but this post is designed to show you the challenges you face as a backpacker.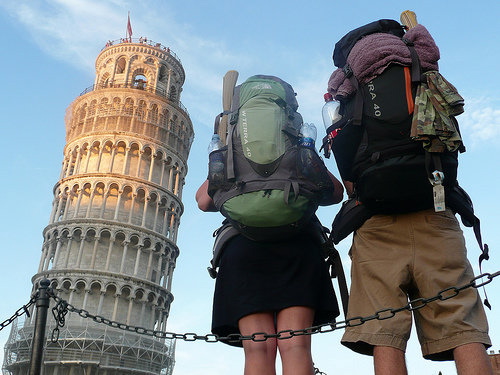 The life of a backpacker isn't easy, and here's why:
1) Living on a Strict Budget
It's one thing to budget your finances, but it's an entirely different thing to budget your finances as a backpacker. Along with the joys of traveling comes the day-to-day reality of living every day of the week on a budget. Yes, you have occasional splurges while backpacking – but for the most part, you're limiting yourself on food, activities, drinking, and transportation.
All with the hopes of traveling longer and farther.
I returned a car recently to the airport. Most people would pay the bus fare back to town. Me? I hitchhiked. That $10 fare paid for my dinner.
2) Dealing with Dorms
If you're spending extended periods of time on the road, you don't have the luxury of staying in hotels – or for that mater, motels. When you think of the nightly cost of accommodation, it adds up. The obvious answer for a backpacker is a hostel. These are excellent venues to meet other travelers and very often, they're pretty sweet places – but at the end of the day (literally), you go to sleep in a three, four, eight, or twenty bed dorm room.
That guy (girl) above you very often snores. And that bed? Well let's just say it's not a Serta Perfect Sleeper.
3) Backpacker Jobs
I'd love for you to quit that job and ditch that cubicle. I think there's more out there than an 8 -5. Yet if you travel like I do, on working holidays, it's definitely not an extended vacation. While I've traveled to quite a few countries, I've worked some pretty unflattering jobs to get me there. In Ireland, I stood on cold, windy, and wet streets in small villages trying to get locals to sign up for monthly donations to charities. In Edinburgh, I spent two weeks scrubbing pots and pans in an office canteen. In Franz Josef on New Zealand's West Coast, I cleaned rooms in a small hotel.
The goal is always for that perfect, backpacker oriented job – but, the realities of backpacking are that you'll sooner or later end up working a job you certainly didn't get that degree for.
4) Dealing with the Language Barrier
I'm unfortunately one of those unalingual Americans. I naively didn't see the incentive in learning and becoming fluent in a foreign language when I was in high school or college. So when I travel to a country where English isn't the language of choice, it can be a bit challenging.
I believe in the importance of learning the basics of the language of the country your visiting – it's courteous and the least you can do as a traveler. However, this doesn't make you fluent. You can get by, but the biggest challenge you deal with is sitting in that local bar or cafe and not knowing what anyone around you is saying. Nevermind the problem of getting directions to the bus station, finding your hostel, or booking your train ticket out of town.
5) Being Seperated from Close Friends and Family
I'm lucky enough to have traveled with a good mate during my first stint overseas, and with my girlfriend now, but it's still difficult to be separated from those close friendships you developed over the years at home. It's wonderful to meet fellow travelers – yet very often, you meet great people only to say goodbye far too soon.
There are plenty of efficient and budget friendly ways to stay connected with your mates back home – be it Skype, Facebook, or international calling plans. The reality of the situation is you're busy, they're busy, and a long backpacking trip results in you loosing contact with old friends.
6) Living out of a Backpack
I travel light. When I was clearing customs in Auckland, the agent asked me where all my luggage was. She saw my year long visa and my lone backpack and didn't understand where everything else was at. There was nothing else.
When you're often on the move, you don't want to have heaps of luggage. The downside? I hate about every piece of clothing I have in my backpack.
A chest of drawers has quite a lot on my Gregory Baltoro 65L.
7) Dealing with the Unexpected
This seems like a vague challenge for a backpacker to deal with. Yes, everyone has to deal with the unexpected – be you a doctor, a grad student, or a backpacker. However, the difference for a backpacker is that you're very often dealing with the unexpected in an area you're unfamiliar with. You don't have the grounding you would if you were permanently based someplace.
It's one thing to catch the flu when you're home in Chicago. You know where to go, who to see, and what to do. Try getting seriously ill in Istanbul. When you're out of your usual comfort zone, the unexpected challenge can be a lot harder to deal with.
It's important to be realistic about the trip you're planning.
The good always comes with the bad. An extended trip abroad will be a rewarding, life-changing experience – but it certainly won't be easy.
What's your take?
What are some of the challenges you face as a backpacker? Add them to the comments section below.