This is a guest post by Sarah Gonski – contact me if you're interested in writing for Backpackingmatt.com.
Pizza is to Naples what the cheese steak is to Philadelphia:
Homegrown and perfect; the pride and joy of the culinary scene.
When I was on a short backpacking jaunt through Italy a few weeks ago, I arrived in Naples with one goal in mind: eat pizza.
Scratch that, I had two goals in mind, and the second was: don't get killed by the Mafia, knocked over by screaming Vespas or get my wallet stolen before I finish eating said pizza.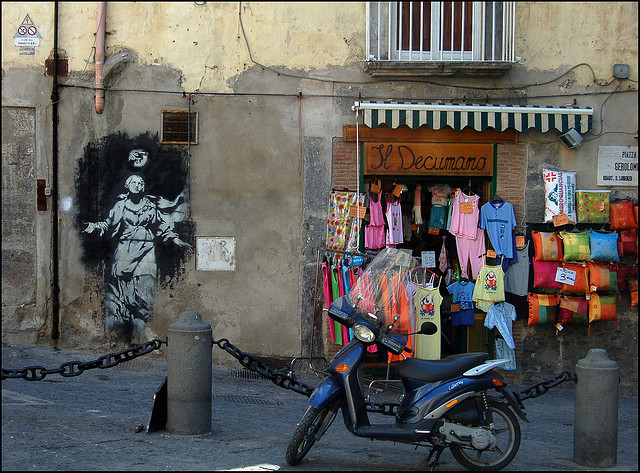 That might be more than two goals, but forgive me, I wasn't a math major. The first goal was easy to achieve. I'm not going to sugarcoat it, the others were tougher.
Before I arrived in Naples, I'd done my homework: the most-mentioned pizza joint in the city is the famed L'Antica Pizzeria da Michele, which has been a family business for 141 years now and counting. A longtime local favorite, recently it's gotten a lot of attention from the international crowd as the site of Elizabeth Gilbert's (and Julia Robert's) famed pizza-gasm in Eat, Pray, Love.
The contender for second place is L'Antica Pizzeria e Friggitoria di Matteo, otherwise known as Di Matteo, just a ten-minute walk through the crowded Naples historic district. In business since 1936, it's hardly a newbie on the scene, and has some dedicated fans of its own.
The mission was clear — consume Da Michele's pizza. Consume Di Matteo's pizza. Compare. Contrast. Repeat as necessary.
We went to Pizzeria da Michele on a cold windy night, and spent about 30 minutes waiting in the line that was forming outside. Nearly everyone in the line was Italian – the first good sign.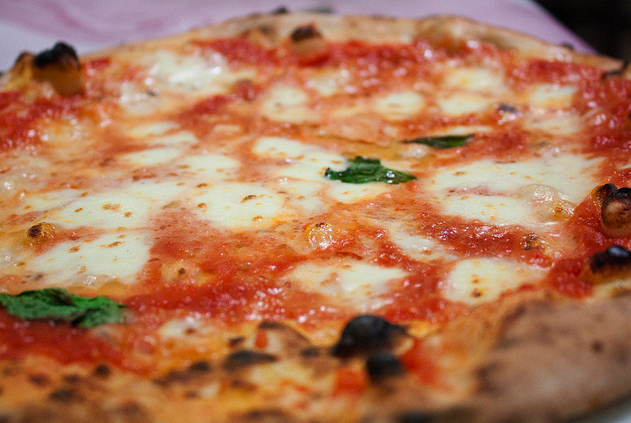 If the locals are lining up in a town where you can buy pizza about every ten yards, then this was the place I wanted to be.
The place is fairly small, and no frills. The seating is family-style, so there are no private tables, which somehow feels right in extroverted Italy. The menus are single-page printouts hung in 8×10 frames on the walls next to each table. It's clean and simple because there are only two offerings: Pizza Margherita (sauce, mozzarella and basil) or Pizza Marinara (no cheese).
It was perfect. The crust was chewy on the outside, rolled thin in the middle to let the sauce take center stage. The sauce was delicate and seasoned with a light touch, much thinner and lighter in color than pizza sauces usually are, and it tasted like fresh tomatoes. The cheese was slightly smoky and perfectly melted.
The whole effect was divine.
Hard to top, but we tried anyway. The next stop was Di Matteo for lunch the next day. Again there was a line outside, with only Italian being spoken – good news.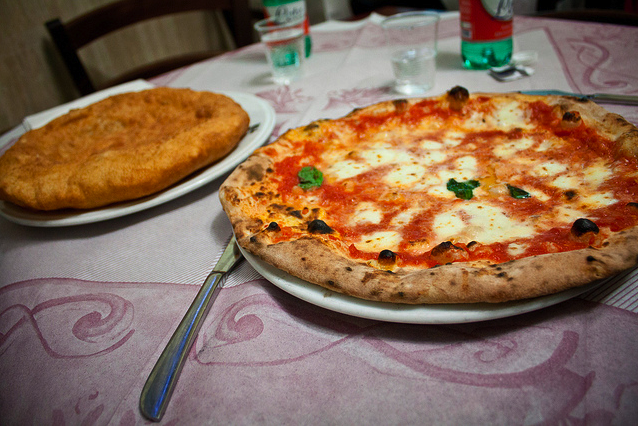 The interior is small, but has an upstairs that the waiters send food to using an old-fashioned pulley system, which undeniably adds both charm and excitement (What if the rope breaks? Can I buy the pizza that falls off at a discount?).
The pizza came in good time, and boy was it good. The crust was thinner and slightly crispier than Da Michele's, the sauce more robust, with a more intense flavor. The cheese was slightly firmer than the gooey Da Michele version, and the pizza had slightly less of the smoky flavor from the brick ovens.
The case to be made for each:
Da Michele: I like the whole limited-menu thing. It takes cojones to know that your food item is so good that no one needs to even think about ordering something else. The pizza was outrageously delicious. Waiting in line isn't ideal though, and it seemed that there was always a line.
Di Matteo: More menu options, including a deep fried pizza that's totally worth the heart attack. They also have private tables, so you don't have to sit with strangers, which could be a plus or a minus depending on your tastes.
The verdict: I am a Da Michele girl. The best pizza I've ever tasted in my life, hands down. It was so good I went back the next day for more.
The second verdict: You can't go wrong at Di Matteo's, either.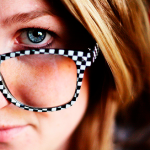 About the Author: Sarah Gonski writes at Love & Paella about falling in love with the world in general and the south of Spain in particular. She enjoys 80s music, her beloved camera La Rebel, and conjugating Spanish verbs with The Mister. Her cherry chapstick has accompanied her to 24 countries and counting (don't worry, it wasn't the same tube).